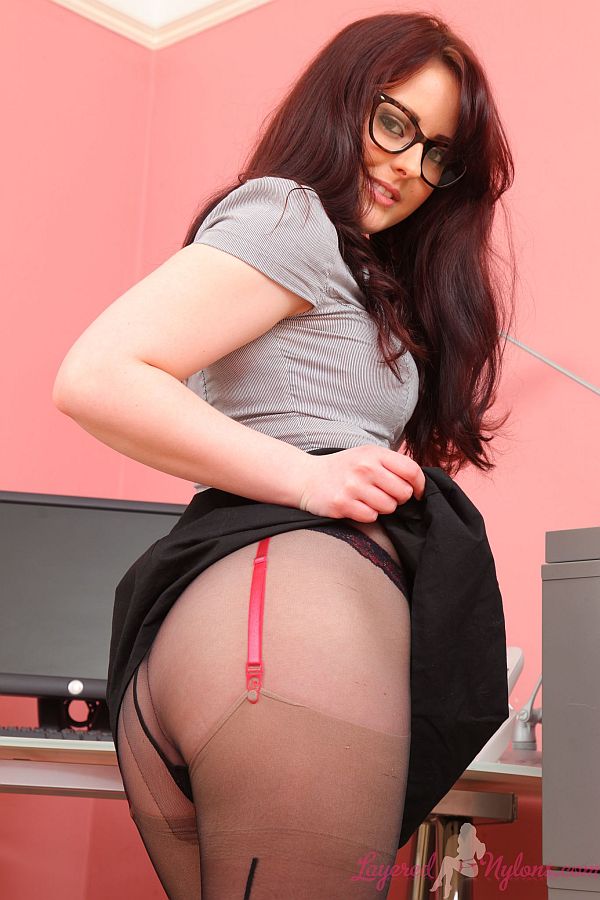 Bex R is our new office temp and made quite an impression as she walked into the office on her first day looking incredibly sexy wearing her glasses, short skirt and layers of nylon on those legs of hers.
We noticed Bex had some nice curves, especially around her hips, so standing by the filing cabinet she lifted up her short, black skirt to give us a look at her fabulous rounded ass encased in a layer of black sheer pantyhose.
Bex was also wearing some saucy red suspenders under her tights, which stretched over the curves of her buttocks and pulled taut on the tops of her seamed beige tan, nylon stockings.
Standing there holding up her skirt, she looked back over her shoulder and smiled, offering a view of the black contrast seam of her stockings running up the back of her shapely legs from her shiny leather heels.
Bex unzipped her skirt at the back and wiggled her bum as she slipped it down her legs, then when she turned we saw she was wearing a pair of black and red lacy panties under her pantyhose. She unbuttoned her shirt to reveal a matching lacy bra with a pretty floral design, which she unclasped at the back and stripped away to pose topless.
Sitting in the chair she slipped off her patent leather heels and extended her leg out towards us for a view of the soles of her feet covered in the black reinforced nylon. Then she knelt on the floor and presented views of her sumptuous ass and the soles of her dainty feet in their layers of nylon stockings and pantyhose.