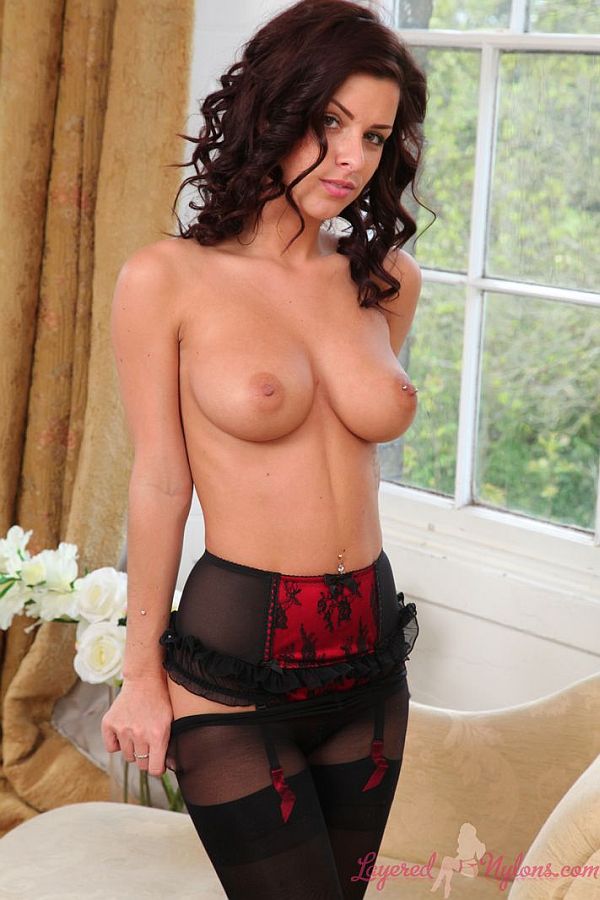 Rae is a very natural looking brunette with sparkling hazel eyes and a special way of smiling that tells you she's the type of girl that is fun to be around.
We caught her just about to go out for the day wearing a striking, yellow coloured dress that really clung to the outline of her slender figure as she stood and posed in her high heels.
Rae decided she had time to put on a show for us, so she knelt on the couch and teasingly lifted the edge of her dress to show she was wearing black, sheer nylon pantyhose layered over her suspenders and stockings.
Asking if we wanted to see more, she pulled down the front of her dress to reveal her all natural breasts, then stood and slipped the remainder of the garment down her legs to remove it.
Having slipped off her heels, she hooked her thumbs into the waist of her tights and pulled them down until they were stretched just below her buttocks, and showed us the wide black, garterbelt with red satin inlay and black suspenders that was holding up her stockings.
Rae removed her pantyhose and then detached her stockings from her garterbelt and rolled them down her legs, then she stripped off the garterbelt itself, until she was just left standing in her panties.
Rae then sat and pulled on her pantyhose, then slipped each of her stockings up her legs and reattached them to her suspenders and stood on tiptoe in her stockings as she posed topless.