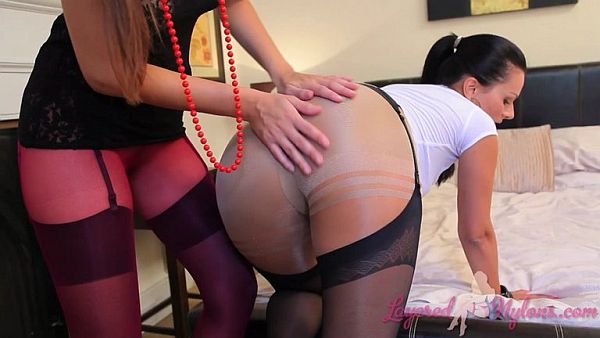 Katya Nova & Zuzannah stood close together and moved their bodies in a very sensual and erotic way, both of them looking very sexy in short, tight leather skirts and layers of nylon.
Their stockings tops were tantalizing visible below the short hemlines of their skirts ,as they swayed together and explored each others curves through their lace and leather clothes.
Katya unzipped and pulled down Zuzannah's skirt and moved her hands all over her friend's ass and thighs, which were layered in coloured pantyhose worn over black stockings and suspenders.
Zuzannah then pulled down Katya's black leather skirt and spread her hands all over her ass sheathed in a layer of beige nylon pantyhose, which shimmered with iridescent bands of light.
Both girls knelt on the bed and kissed on the lips, then lifting their tops they both took turns to gently suck on each others nipples and rubbed their naked breasts together as they loosely embraced.
Laying together on the bed they admired and explored each others lingerie, caressing their limbs and pushing their hands between the layers of sexy nylon that covered their hips, thighs and legs.