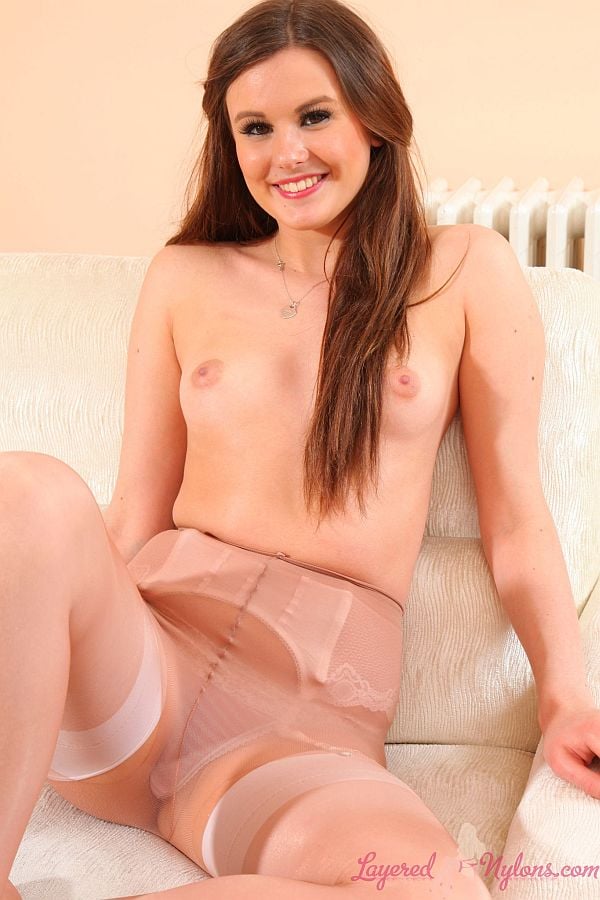 Bryony S was looking very pretty in her sequined party dress, which was just short enough to reveal the tops of her white nylon stockings that adorned her long and slender legs as she stood and posed in her heels.
She lifted up the back of her dress to show she was actually wearing light, beige tan nylon pantyhose layered over a white pantie thong, lacy suspender belt and stockings.
Her long white suspenders stretching down to the tops of her nylons were attached by metal suspender clasps, all of which could be seen through the thin denier of her pantyhose that sheathed her fabulous buttocks.
After bending over and giving us even more views of her sexy ass and legs in nylon, she then turned and lifted up the front of her dress to reveal her naked, all natural breasts with their beautiful warm brown aureoles and nipples.
Stripping off the dress she stood and posed topless with hands on hips, drawing attention to the front of her suspender belt and the suspenders framing the pantie thong under the layer of her sheer pantyhose.
Bryony sat and slipped off her heels and offered views of the soles of her feet cocooned in tan sheer nylon, then pressed her toes against the floor and lifted the arches to poise them gracefully.
Bryony stretched out on the sofa and laying on her front she stretched her legs out behind and offered even more views of her pretty feet in their layers of dusky, warm nylon pantyhose and stockings.