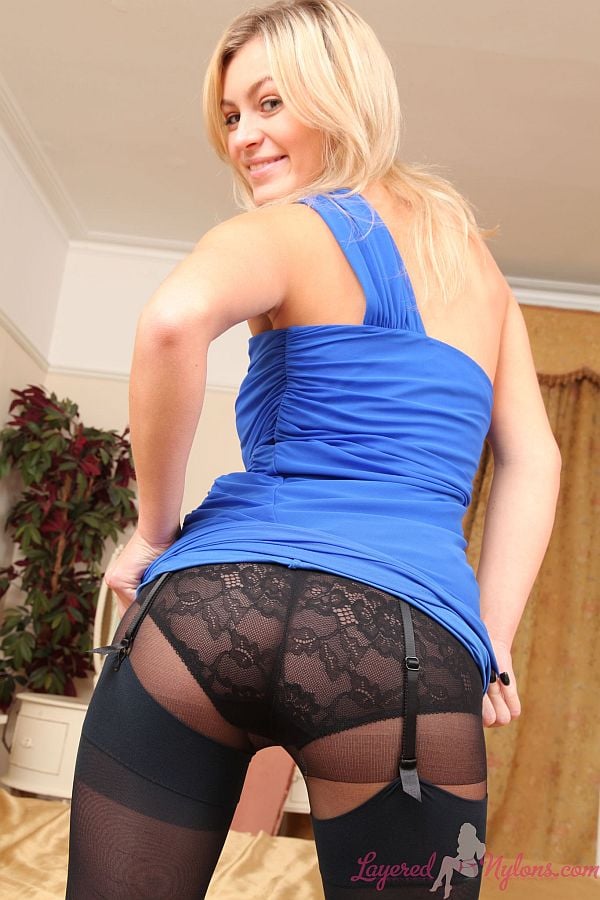 'Do you want to see my sexy black panties?' Summer asked, with a cheeky grin on her face as she lifted up the back of her elegant looking blue dress to give us a look. Sure enough she was wearing some very hot looking, black lacy panties under a layer of black nylon pantyhose.
Summer was also wearing black nylon stockings and a black garter belt over her hose, and teased us by giving her ass a sexy, little wiggle, which made her suspenders stretch and pull on the tops of her nylons.
She climbed onto the bed and stripped off her dress to reveal she wasn't wearing a bra and posed with her petite all natural breasts on view as she slipped a hand down the top of one stocking. Then slipping off her heels, she lay back and lifted up her legs so they were pressed together and crossed at the ankles, to give a view of the soles of her feet covered in their layers of nylon.
Summer got into a kneeling position on the bed and tipped up her ass so her panties and sheer nylon hose stretched tight around her buttocks, causing her suspenders to pull taut on the tops of her black nylon stockings.