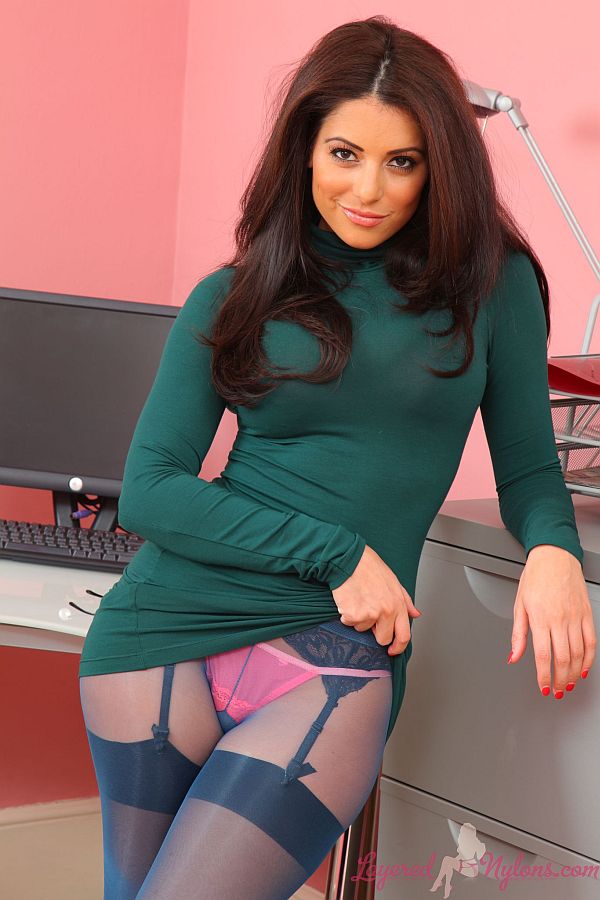 Gorgeous brunette secretary Charley S stood by the filing cabinet with her back to us and turning her head she slightly pursed her lips as she looked over the rim of her sexy spectacles.
Charley's figure looked fabulous in her dress which clung to the outline of her curvaceous buttocks, and was so tight fitting that the faint bumps of her suspenders could be seen through the material at the back of her thighs.
Having removed her spectacles she leaned against the cabinet and lifted the front of her dress to reveal she was wearing a layer of blue, sheer nylon pantyhose over a pink pantie thong, lacy suspender belt and black stockings.
Charley pulled up the front of her dress to uncover a matching pink bra that uplifted and pressed the mounds of her huge tits together, forming a tight cleavage that looked so inviting.
She turned to give us a view of her sexy ass sheathed in shiny, sheer nylon and the black suspenders that stretched over the curve of her buttocks and pulled taut on the tops of her stockings.
Charley stripped off her bra and sat in the chair with her legs slightly open to give a view of the opaque, blue oval of her pantyhose gusset which contrasted against the pink triangle of her pantie thong.
Charley then slipped off her shoes and stretched out her legs top offer a really close up view of the soles of her feet cocooned in their layer of bluish nylon pantyhose.