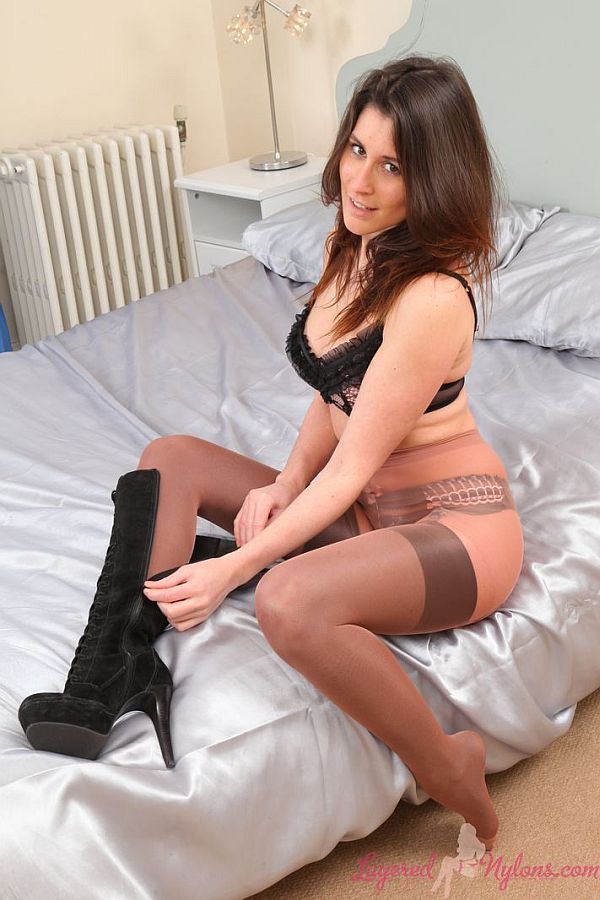 Ulrika was wearing some very sexy knee high boots and a short skirt, a thrilling combination which framed her thighs which were covered in a sexy layer of nylon.
She smiled with a naughty twinkle in her eye as she sat on the edge of the bed, the hem of her skirt pulled back slightly to reveal the tops of her black nylon stockings which were visible under the layer of her sheer pantyhose.
Standing to strip off her skirt Ulrika revealed she was wearing lacy panties and a pretty nylon garterbelt with sexy black suspenders that pulled taut on the tops of her nylon stockings. Then she lifted her black top over her head to uncover the matching black lace under-wired bra that fitted tightly around her breasts.
Ulrika unzipped her boots and unclasped her bra and held the cups in place as she slipped the straps down her arms, before finally stripping it away to reveal her all natural boobs.
Kneeling on the bed she looked back over her shoulder as she pushed her arm down the side of her pantyhose until it was as deep as her elbow and smoothed her hands over the tops of her stockinged thighs.
Ulrika then lay flat on the bed and stretched out her long slender legs to offer close up views of her feet and soles cocooned in their layers of soft, opaque nylon.