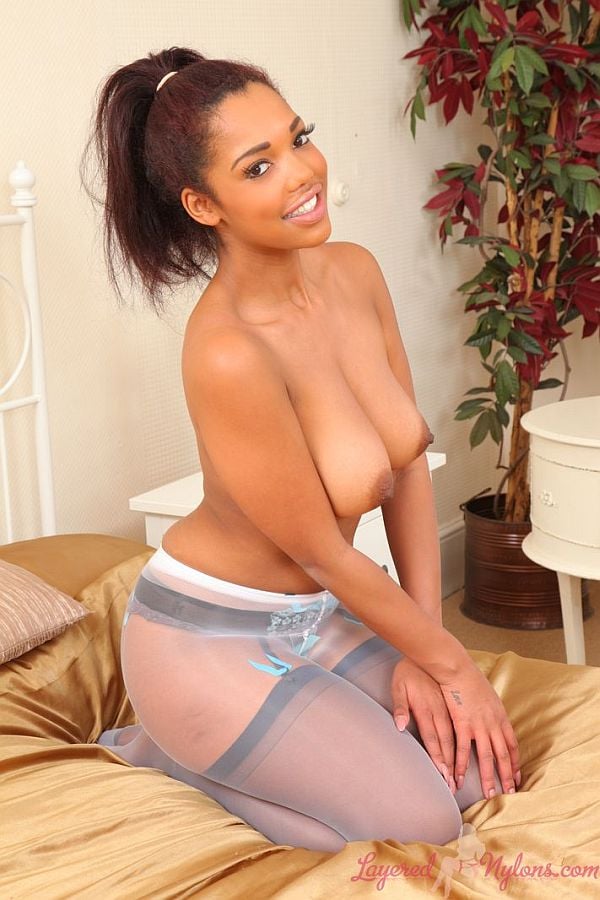 Rehea is a very pretty ebony girl who has only recently started to wear stockings as she normally prefers pantyhose. But when we persuaded her to try wearing both together along with a nice suspender belt, she was pleasantly surprised by the erotic effect this combination had as she posed for this photo shoot.
'I feels quite naughty lifting up my dress like this and letting you look at my sexy underwear,' she remarked, as she stood with her dress pulled up around her hips to show us her pretty suspender belt, tiny thong panties and stockings under her layer of sheer nylon pantyhose.
As she reclined on the bed she lifted her dress up to remove it and revealed she was wearing an sexy under-wired bra that pushed the cleavage of her bust together. Then she slipped off her shoes and offered views of her feet and soles in their opaque layers of white pantyhose layered over black stockings.
Rehea removed her bra to reveal her pendulous, all natural breasts with brown aureoles and soft puffy nipples, then knelt and slightly pushed her boobs together so they stuck out from her chest. Then she posed topless as she lay back and opened her legs for a look at the white, opaque gusset patch of her pantyhose crotch that concealed her panties below.
Finally she lay flat on the bed with her legs stretched out behind her and pushed her hands down the back of her pantyhose, holding the cheeks of her sexy bum in the palms of her hands under the layer of tight, clingy nylon that sheathed the rounded mounds of her buttocks.