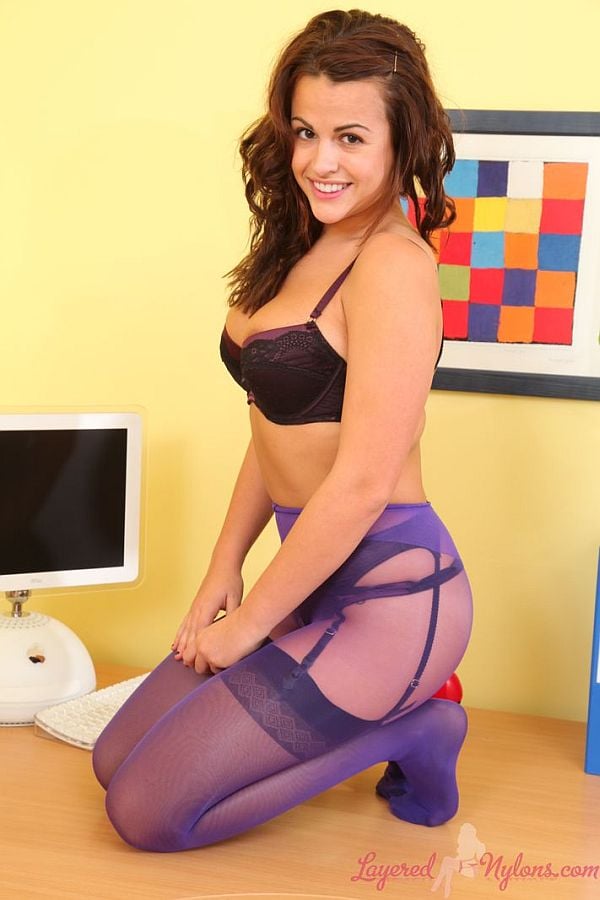 Robyn H is the perfect type of girl you want around the office, with her cheery smile and tight skirts which are short enough to reveal her sexy stockings tops as she bends over to look in the filing cabinet.
Robyn pulled up her skirt to let us see she was wearing a layer of purple-plum coloured pantyhose over black nylon stockings and suspenders. She unbuttoned her top to reveal a black bra underneath, then unzipped the skirt, standing with her back to us as she pulled it over the cheeks of her ass encased in sheer nylon pantyhose.
Turning around again we could see she was wearing a really sexy black lace thong under her hose, then having stripped off the skirt she climbed onto the top of the desk, where she slipped off each of her heels in turn to display her feet.
Kneeling on the desk she slipped the straps of her bra over her shoulder and held the cups in place as she stripped it away to pose topless in several pin-up style positions.
Robyn gave us lots of views of her legs and lovely round ass, sheathed in shiny purple nylon pantyhose layered over her suspenders which stretched down her thighs to the tops of her black nylon stockings.