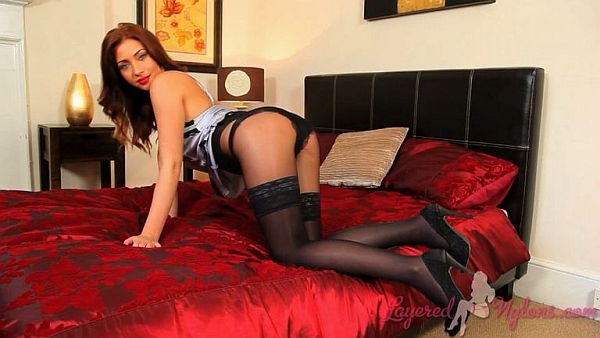 'Hi, I'm Gracie and welcome to my bedroom, why don't you come and join me,' said our lovely busty, brunette in slinky satin camisole, French knickers and layer of black lace top stockings over sheer nylon pantyhose.
Gracie slipped off her knickers to reveal she was wearing very tight fitting black panties, which had a sexy and tantalizing little oval area at the back, just above the cleavage of her buttocks.
Kneeling on the bed she lifted her legs in black shiny nylons so they folded against her back and displayed her sexy stiletto heels in a very coquettish manner, then gently eased off one of her heels and ran her hand along the sole of her nyloned foot.
Slipping off the other heel, she then got into a kneeling position and teased the straps of her camisole over her shoulder and allowed it to fall away to uncover her pendulous, all natural breasts with their large round aureoles and pink nipples.
Gracie reclined on the red satin bed spread and teasingly played with the tops of her stockings, pulling them down slightly and then adjusting them back up to her thigh.