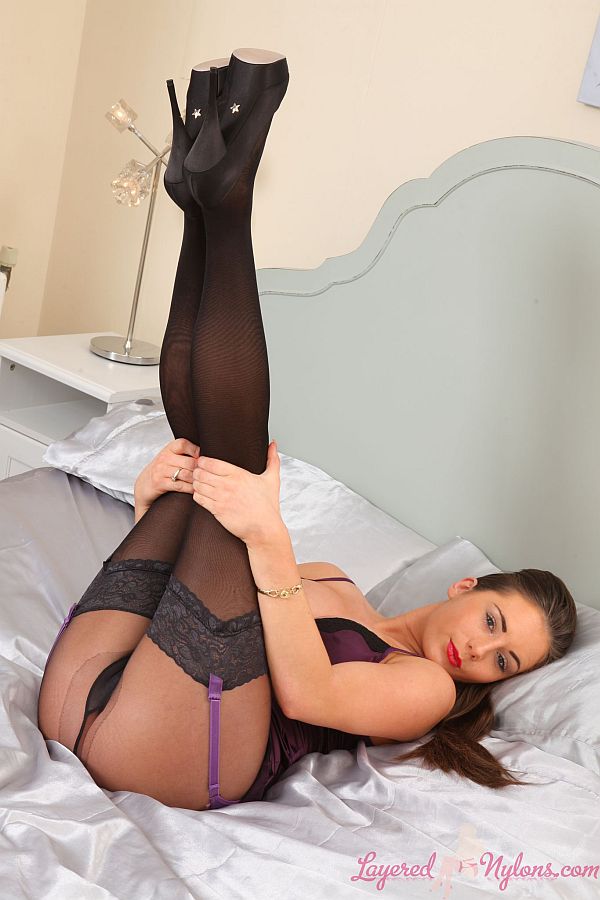 Laura H was looking very sexy with her long brunette hair flowing over her shoulder, the cleavage of her ample breasts barely concealed behind the dark purple chemise she was wearing.
Her chemise was very short and her purple satin suspenders and exquisite lace tops of her sexy stockings were in full view, which we could see were layered over some black sheer nylon pantyhose.
Reclining on the bed she lifted both of her legs together so the heels of her shoes were pointed at the ceiling, offering a view of her shapely legs sheathed in their layers of nylon.
Slipping the thin straps of her chemise over her shoulder revealed her pendulous all natural breasts, and she leaned forward slightly so they hung down and framed them with her arms as she posed topless.
She stripped off her chemise and revealed a triangle of pantie thong, framed by her purple lace suspender belt and suspenders which stretched down her thighs to the lace tops of her sexy stockings.
Laura then removed her spiky heels and stretched out on the bed to give some closeup views of her feet in their opaque layers of nylon stockings and pantyhose.