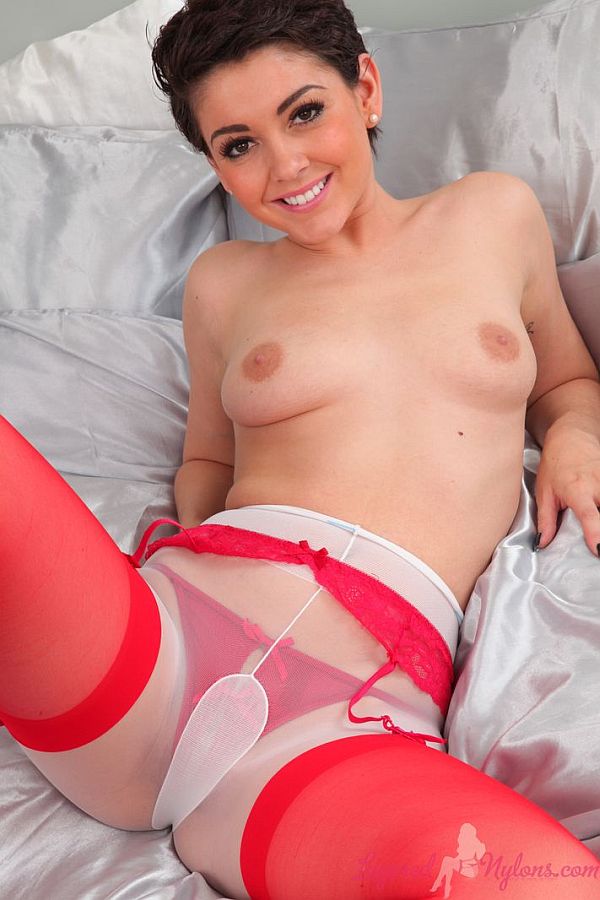 Bryoni Kate was wearing a very clingy white dress and it was quite evident what she was wearing under it, for we could clearly see the bumps of her sexy suspenders as she stood and posed.
She pulled up the dress show that not only was she wearing red stockings and matching suspender belt, but that they were actually layered over some white, sheer to waist nylon pantyhose.
Bryoni Kate lifted the dress over her head to reveal she was not wearing any bra and laying back on the bed she hooked her thumbs under the straps of her suspenders to pull them up, while giving a view of her pantyhose crotch behind which she was wearing a red thong.
Her legs looked so shapely in her red stockings as she sat with them displayed against the silver satin sheets, then she slipped off her heels and offered views of the soles of her feet in close up.
Laying back on the bed she lifted up her legs and drew her hands up and down their length, then crossing them at the ankles she flexed her nyloned feet and pointed the toes in their opaque layers of stockings and hose.