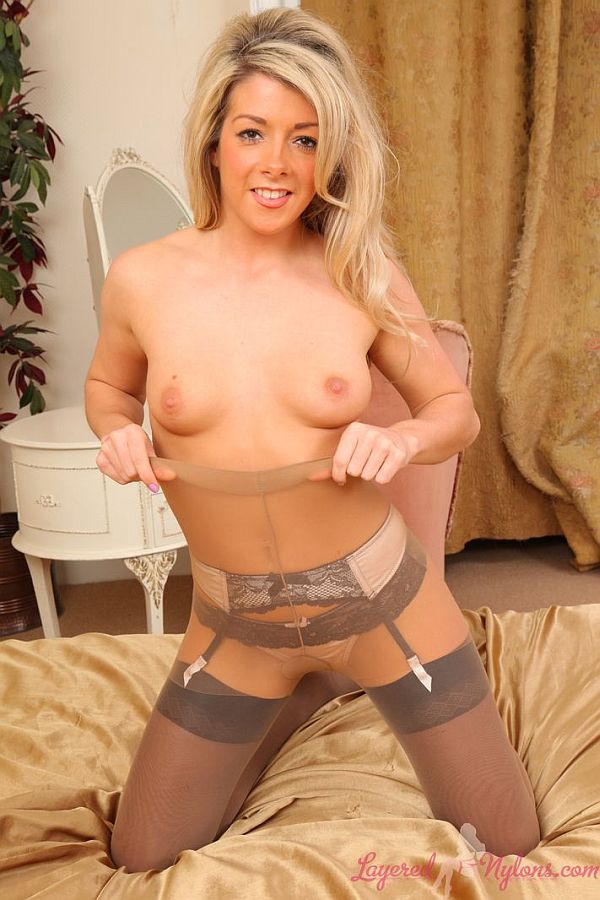 Tillie is a really cute blonde and loves to flirt while wearing a sexy dress that is just short enough to reveal the tops of her nylon stockings and suspenders when she bends over slightly, which is her favourite way of getting the attention of guys she fancies.
Tillie showed us some of her favorite lingerie and lifted up the front of her dress to reveal she was wearing white satin and black lace panties, and matching suspender belt attached to black stockings under her layer of beige coloured, sheer nylon pantyhose.
She turned to give us a rear view and show off her ass sheathed in a layer of clingy nylon which covered her pert buttocks and the long, black suspenders stretching under her layer of hose pulling on the tops of her stockings at the back of her thighs.
Tillie lay on the bed and kicked off her shoes, then pulled her dress over her head to reveal she was wearing a matching satin and black lace bra which she removed to uncover her lovely petite breasts with their pink, puffy nipples.
She posed topless as she lay back on the bed, lifting her legs to offer close up views of the soles of her feet, then she changed position and keeling she stretched her pantyhose upwards so they were pulled up high around her waist.
Tillie offered views of her pantyhose crotch and the tan nylon gusset patch that covered her panties, then pushed her hands down the rear of her hose and stretched her fingers over the soft flesh of her ass.