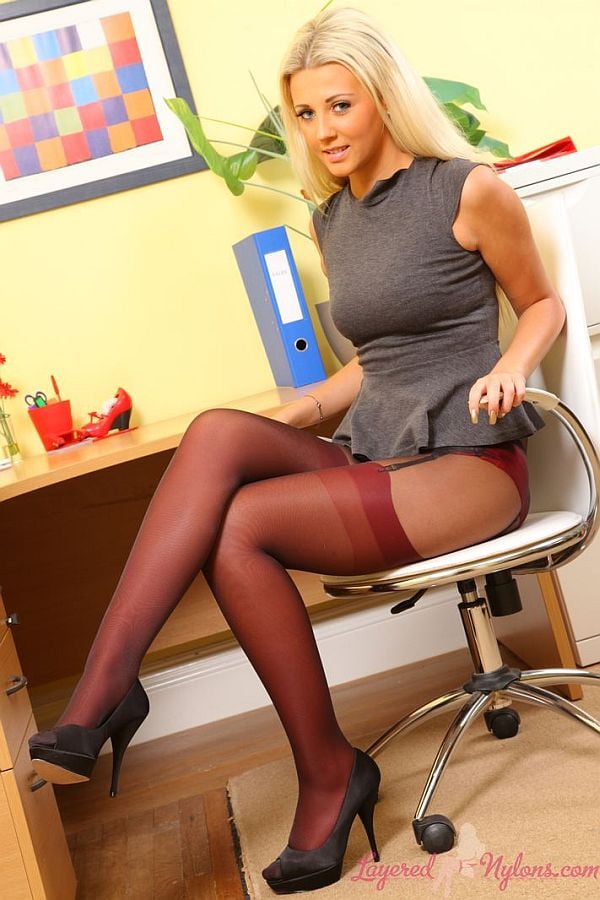 Becki H would brighten up any office with her gorgeous looks and warm personality, not to mention her sexy outfit consisting of a tight fitting top, short shiny skirt, nylon covered legs and open toed heels.
Becki was smiling as she posed, knowing we could not but help admire her fabulous breasts, which looked very prominent under the clingy fabric of her tight fitting top.
Leaning against the edge of the desk she slowly pulled the hem of her skirt up her thighs, revealing taut black suspenders attached to the tops of red nylon stockings, which she was wearing under a layer of sheer, dark tan pantyhose.
Climbing onto the top of the desk, she knelt and pulled up the back of her skirt to show she was also wearing red panties under her hose. She then lay down and stretched out her legs for a view of her sexy ass and the black suspenders stretching over the back of her thighs to the tops of her nylon stockings.
Becki removed her skirt and top to reveal she was wearing a matching red satin and black lace bra and suspender set, then unclasped the bra at the back and held the cups in place over her boobs before stripping it away uncover her perfectly formed, all natural breasts.
Becki stood and posed topless while she pulled and stretched her pantyhose around her waist, before finally pulling them down to show off the cheeks of her sexy ass in her red satin panties.