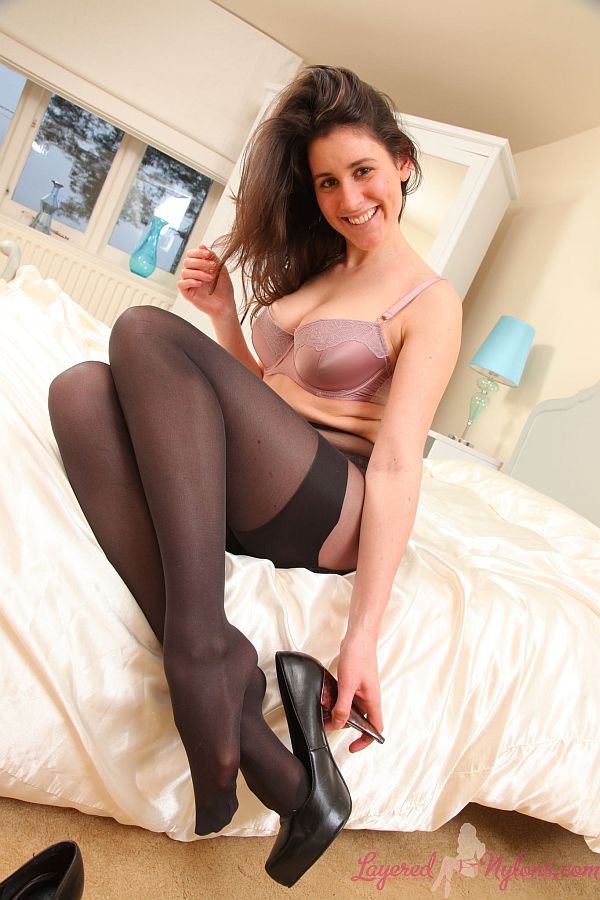 One thing secretary Ulrika likes to do when she gets home from the office is strip off her clothes and relax in her lingerie and nylon hosiery.
None of her colleagues know she wears suspenders, stockings and a layer of pantyhose under her dress. It makes her feel sexy knowing that she alone can feel the closeness of her lingerie next to be body as she sits at her desk. The tightness of her suspenders pulling on the tops of her stockings as she leans over the filing cabinet to retrieve some files, is always sensational to say the least.
When Ulrika arrived home she took off her dress and felt so relaxed as she lay on the bed in her underwear. Admiring her body dressed in lingerie, she slipped her hands down the inside of her pantyhose to feel the contrast between the flesh of her thighs and the softness of her stocking tops.
Ulrika thrilled at the sensation of her hand sliding under her stocking top and along her thigh, her forearm stretching up the waist of her hose as she pushed her arm even further under the layer of sheer nylon. She slipped off her black heels and laying back on the bed, lifted up her legs and crossed them at the ankles, pointing her feet and toes in their layers of black nylon hosiery.
Stripping off her silky bra, Ulrika stood in her stockinged feet and pulling on the waist of her pantyhose, stretched them up so the sheer nylon screen was layered over her all natural breasts.