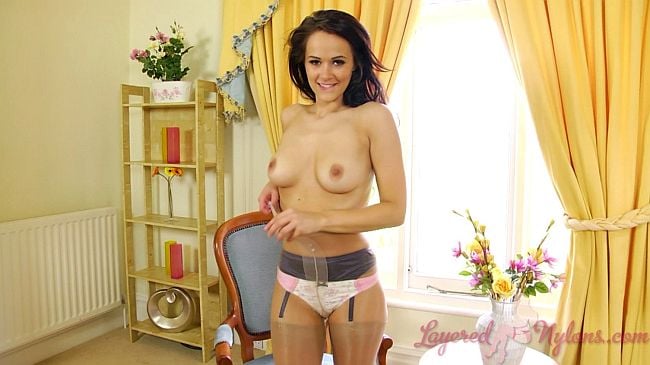 We are sure you'll enjoy watching delectable brunette Felicity Hill performing an alluring striptease in her layers of pantyhose, suspenders and stockings in this video…
Felicity moved her body in a sensual rhythm, looking back over her shoulder as she pulled up the back of her tight skirt to show off her sexy bum encased in sheer nylon pantyhose. The 'whale tail' of her white panties appeared at the top of her ass and the thin strip of thong disappeared into the cleft of her buttocks under the layer of her sheer nylon tights.
Felicity gave her ass as sexy wiggle and ran her hands over her buttocks, gently squeezing her bum cheeks sheathed in their layer of sheer nylon. Her hip sway caused her black suspenders to pull on the tops of her tan stockings, bands of light reflecting over the surface of her shiny pantyhose that covered her ass and shapely legs.
Stripping off her bra she caressed her all natural breasts and circled her fingers over the stiff nipples, then stood and swayed sensually as she grasped hold of the waist of her pantyhose. Felicity bit her lip and gave a naughty smile as she stretched and pulled on her pantyhose, tugging and teasing them this way and that around her waist and over the mounds of her lovely boobs.