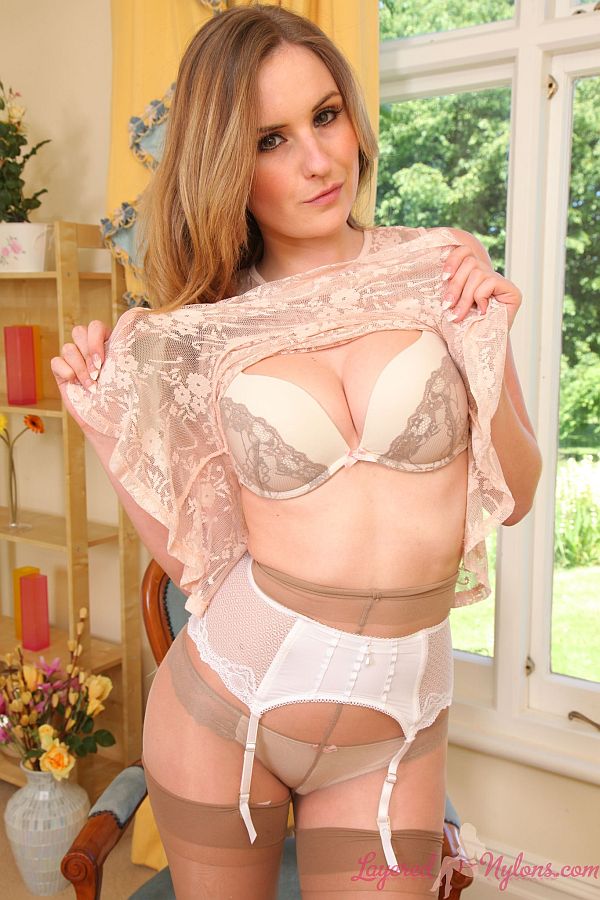 Jess looked at us with bewitching eyes as she sat in the chair with her legs slightly parted, giving a peek up her skirt at her white panties under a layer of tan, sheer nylon pantyhose.
Kneeling on the floor, she leaned over the chair so the hem of her short leather skirt, lifted up her thighs and revealed a glimpse of suspender attached to the tops of her tan stockings. She slowly pulled up the back of her tight skirt to show she was wearing lace panties under the layer of her hose and the white suspenders, pulling taut on her sexy nylon stockings.
Jess stood and unzipped the back of her leather skirt, then let is slide over her ass and down her legs in their layers of nylon stockings and pantyhose. She turned to reveal her pretty white garter-belt that clung to her hips and the suspenders framing the crotch of her knickers, under the layer so her beige nylon pantyhose.
Jess stripped off her lace top and slipped out of her bra that matched her lacy panties, her hands concealing the nipples of her all natural breasts as she posed in her layers of lingerie, nylon stockings and pantyhose.