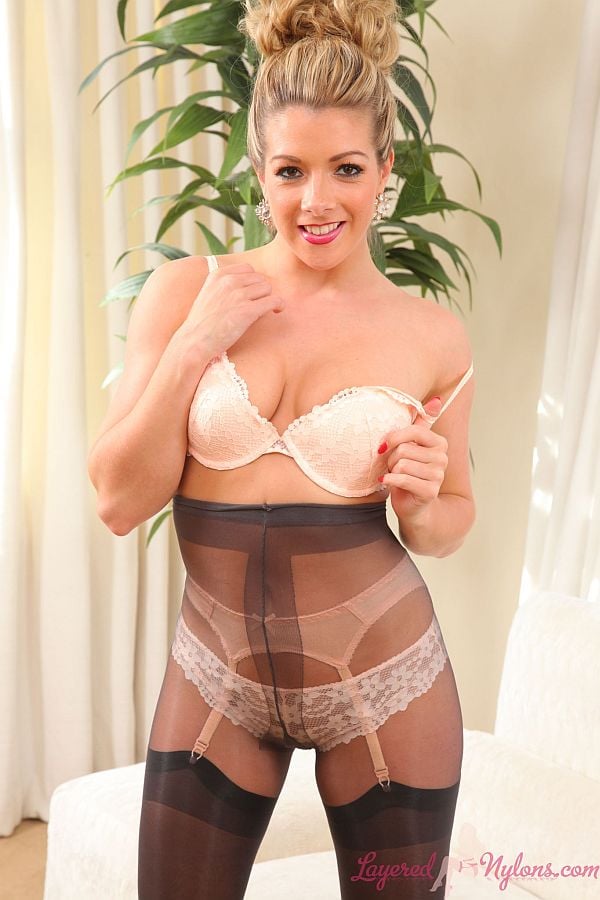 Tillie looked so cute as she posed in a turquoise colored lace top, short flared skirt, her shapely legs dressed in dark nylon hosiery and feet in stiletto heels.
Unzipping the back of the skirt revealed she was wearing white lace knickers and a peach colored garter-belt, under a layer of black, sheer nylon pantyhose. She bent slightly as the skirt slipped down her legs to the floor and stepped out of it, then turned to show the front of her knickers and the taut suspenders attached to the tops of black nylon stockings.
Tillie pulled the lace top over her head, then pushed her forearms down the back of her pantyhose and spread her hands over the cheeks of her ass in those sexy lace knickers. Then she reached around her back to release the clasp of her bra and stripped it away to pose with her lovely all natural breasts on display.
Laying back on the sofa, she lifted her legs up high and crossed them at the ankles to give a close up view of her cream colored, stiletto heels. Then she swung around to sit and slipped off her heels, letting them dangle from her toes in their nylon hose, before taking them off completely.
Tillie stripped off her black pantyhose and standing in her stockinged feet, she took off her knickers and gave a full-frontal view as she posed semi-naked in her suspenders and stockings. She then slipped her feet into her pantyhose and rolled them up her legs, carefully layering the sheer nylon over her stockings and garter-belt, and pulling on the waist so the gusset stretched around her naked crotch.