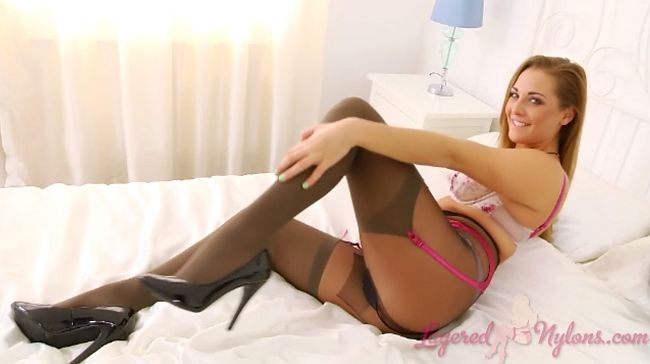 'Hi Guys, I'm Daisy and I'm wearing both stockings and tights in my bedroom, so I'm going to strip for you,' she smiled warmly, her long hair falling loosely over her shoulders and down her back as she turned to offer several views of her fabulous figure in a short, blue dress, that clung to her curves.
Daisy sat on the edge of the bed and swung her legs upward and the nylon of her stockings whispered softly as she brushed them together at the ankles. The shortness of her dress revealed pink suspenders attached to dark nylon stockings, layered over dark tan pantyhose around her thighs. She slipped her hand between the layers of nylon and extended her leg to full length, made even longer by the pointed heel of her shiny, black shoes.
Daisy stripped off her dress to reveal a pretty white bra with a pink floral pattern, that matched the panties under her sheer nylon pantyhose. Laying back on the bed, she lifted her legs high and held them together, her hand sweeping under her thighs and the taut pink suspenders that strained on her stocking tops.
Daisy slipped the pink straps of her bra over her shoulders, then reached behind to release the catch and pull the garment away from her chest to uncover her perfectly formed all natural breasts. She finished her striptease by standing to show off her fabulous body and posed topless in her pink suspender belt and layers of dark tan hosiery.