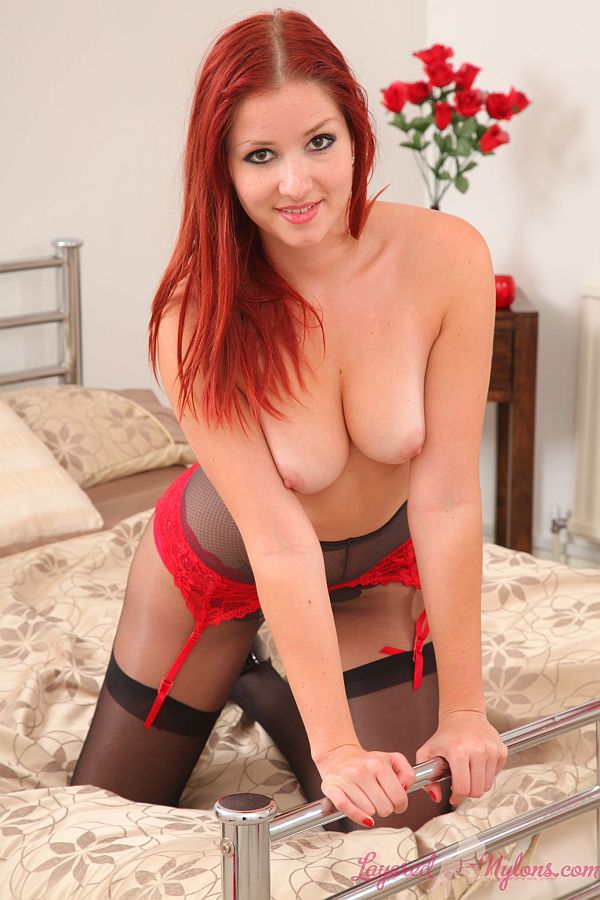 Secretary Harley appeared to be dressed quite conservatively in her dog-tooth two piece suit, her legs in black nylon hose and feet in court shoes. However, despite the formal look, she's quite a naughty secretary and showed us how she likes to let her hair down and tease…
Sitting with one leg crossed over the other, she slowly parted the split along the front of her skirt, revealing a hint of black hose around her thighs and a glimpse of red suspender attached to black stockings.
Laying on the bed, she lifted her legs and the suspenders stretched around the flesh of her thighs and strained on her stocking tops. Then crossing her ankles, she reached up and drew her hands down the length of her shapely legs covered in their layers of smooth, black nylon hosiery.
Harley stood and stripped off her jacket, uncovering the tight, fitting black top that clung to the shape of her breasts. Then bending over, she stripped the skirt over her ass to reveal the red suspender-belt around her waist and red panties with white dots under the layer of patterned, black pantyhose. Stepping out of the skirt, she placed one hand around her hip and looked back over her shoulder with a glimmer of naughtiness in her eyes as she showed off her ass in those sexy, red panties.
Stripping off her stretchy top revealed she was wearing  a red under-wired bustier with lacy trim around the upper edge of the bra cups. She reached behind her back to release the catch and held the cups in place while she stripped the bra away and uncovered her all natural breasts.
Harley reclined on the bed and pulled the waist of her hose up her front so they stretched tight around the crotch her sexy, red panties. She knelt so her breasts hung down from her chest as she posed in her lingerie, then pushed her hand along her thigh and down the tops of her black, nylon stockings.