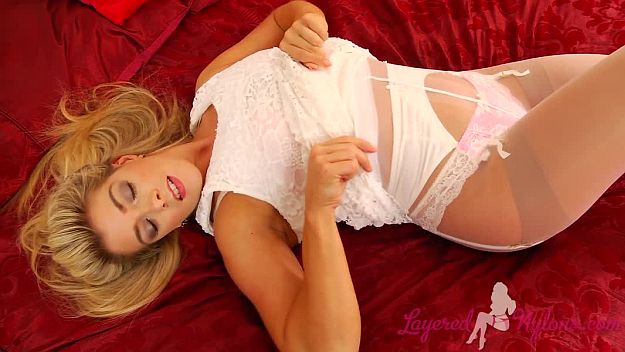 Tillie is a stunningly attractive blonde and moves so seductively while she teases in a gorgeous white lace dress that clings her shapley figure. Seating herself on the rail at the end of the bed, she slowly pulls back the lacy hem and gives a tantalizing glimpse of her panties behind the crotch of her white nylon pantyhose.
Tillie stands and seductively sways while teasing the dress up and round the cheeks of her ass and we see that she is actually wearing tan stockings under her sheer nylon tights. She crawls onto the bed and over the red satin sheets, gently writhing as she shows off her ass bound by by suspenders attached to her tan stockings.
Laying on her back she slowly slips off her white shoes, then pulls the dress up around her hips to fully reveal the white suspender belt and pink lace panties under the layer of her beige nylon hose.
Tillie kneels on the bed and strips the dress over her head, uncovering a matching pink lace bra that uplifts the flesh of her cleavage.  She wiggles as she pulls the waist of her pantyhose up her belly and the nylon gusset stretches tight around the crotch of her sexy lace panties.