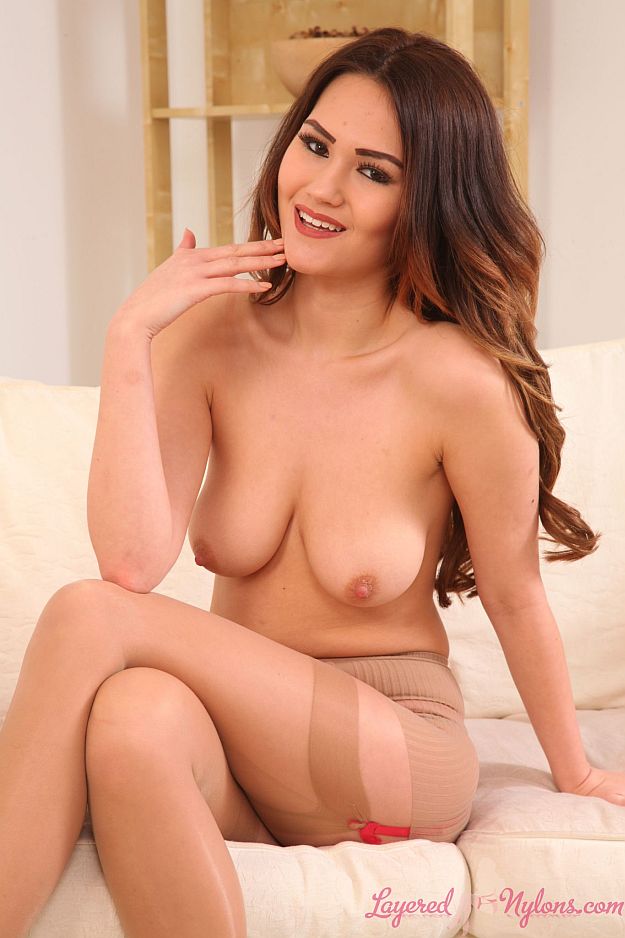 Brunette babe Daisy Rose makes her debut appearance on Layered-Nylons wearing a tight-fitting black top, short metallic grey skirt, tan hosiery and black heels.
Daisy knelt on the sofa and faced us with her legs apart, her short skirt giving us a tantalizing view of her pantyhose gusset and red suspenders attached to the tops of her seamed nylon stockings. She lay back and lifted her legs to show off her shiny patent leather heels, her suspenders stretched over her thighs, straining on the tops of her tan nylons.
Daisy stood and lifted up her top to reveal the ample flesh of her cleavage supported by the cups of her red and black bra. Stripping off the top, she pulled her skirt up around her waist and turned to show the cheeks of her ass sheathed in the clingy nylon of her beige-tan pantyhose.
She eased the tight skirt over the curves of her buttocks and stripped it down her legs, then turned to show the red-suspender belt and black panties under the layer of her sheer nylon pantyhose.
Daisy slipped the straps of the bra over her shoulders and down her arms, holding the loose cups agaisnt her chest, then stripped it away to fully-reveal her all natural breasts. She reclined on the sofa and posed topless, slipping her hand inside her pantyhose and over her thighs and brushing her fingertips over her stocking tops.
Crossing one leg over the other, she seductively slipped off her heels and dangled them from her pretty feet in their layers of tan nylon hose.