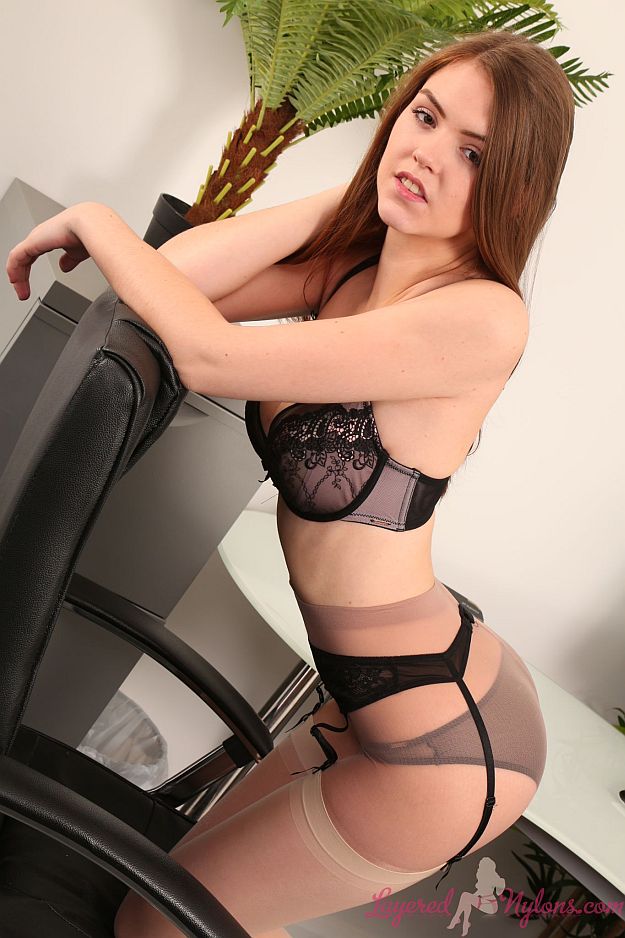 Pretty secretary Rosie dressed quite demurely and appeared a little shy at first, but she soon warmed up while she stripped down to her lingerie and nylon hosiery.
When Rosie stood and bent over her desk, we could see the definite outlines of her suspenders and stockings tops under the tight-fitting material of her tan skirt. She turned and slowly eased up her skirt, revealing black suspenders attached to beige colored nylon stockings and a glimpse of panties under a layer of tan pantyhose.
Rosie slipped her hand between the layer of her hose and beige nylons, causing the suspenders to tug on her stocking tops. She turned and pulled up the back of her skirt to show the cheeks of her bum encased in black panties and the soft, sheer nylon of her beige-tan hosiery.
Rosie looked shyly over her shoulder as she stripped the skirt off and slipped it down her legs to step out of it. Sitting back against the edge of the desk she unbuttoned her striped shirt and revealed a black lace, semi-sheer bra, through which we could see her soft, pink nipples.
Rosie teasingly stripped off her bra to fully uncover her lovely all natural breasts and posed topless, pulling on the waist of her pantyhose so they stretched tight around the crotch of her panties.