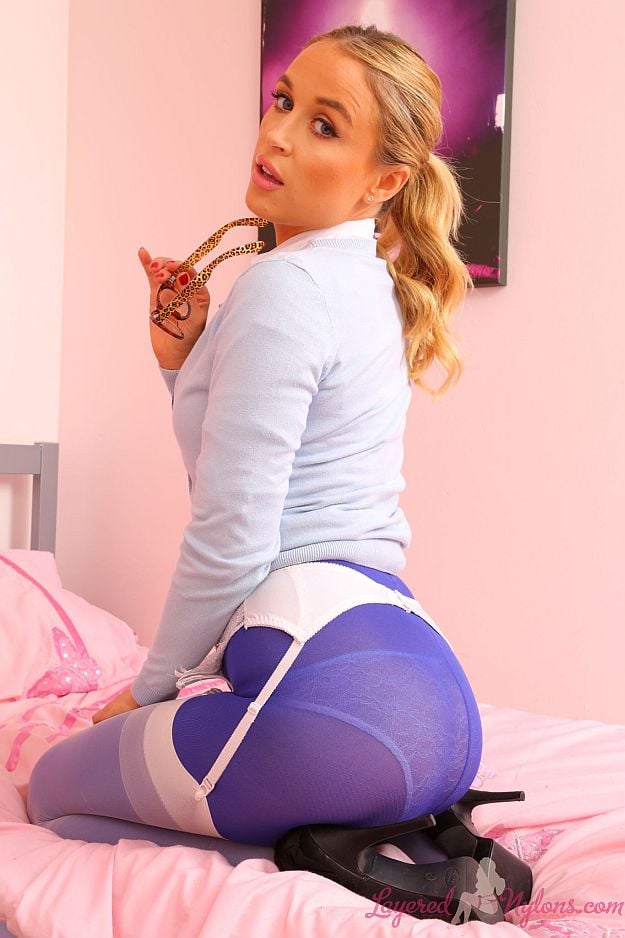 Rosie W dressed as a sexy college girl, strips off her school attire and poses in colored hosiery and white nylon stockings in her latest photo-set at Layered-Nylons.
Rosie sat on the bed and gave a sexy look over the rim of her glasses and opened her legs for an up-skirt view of her white stockings, layered over the blue colored pantyhose. She slipped her hand between the layers of nylon around her thighs and stroked the soft, semi-sheer pantyhose, causing her white suspenders to strain on the tops of her stockings.
Rosie knelt on the bed and unzipped the back of her skirt, pulling it down to her thighs and sitting back on her heels. Her ass looked beautiful as she sat and looked back at us, her hand caressing her buttocks clad in lacy white panties under the layer of her pantyhose.
Rosie got up and stood facing forward, the white suspender-belt and straps of her suspenders framing her panties under the front panel of her pantyhose. She stripped off her tie, cardigan and pulled open the top of her crisp white shirt to show the cleavage of her naked breasts.
Reclining on the bed, Rosie opened her legs to give a close-up view of the pantyhose gusset patch stretched over the crotch of her white panties. She stripped off her shirt and revealed her all natural breasts, then slipped off her heels and lifted up her legs to display her feet in their layers of nylon hosiery.