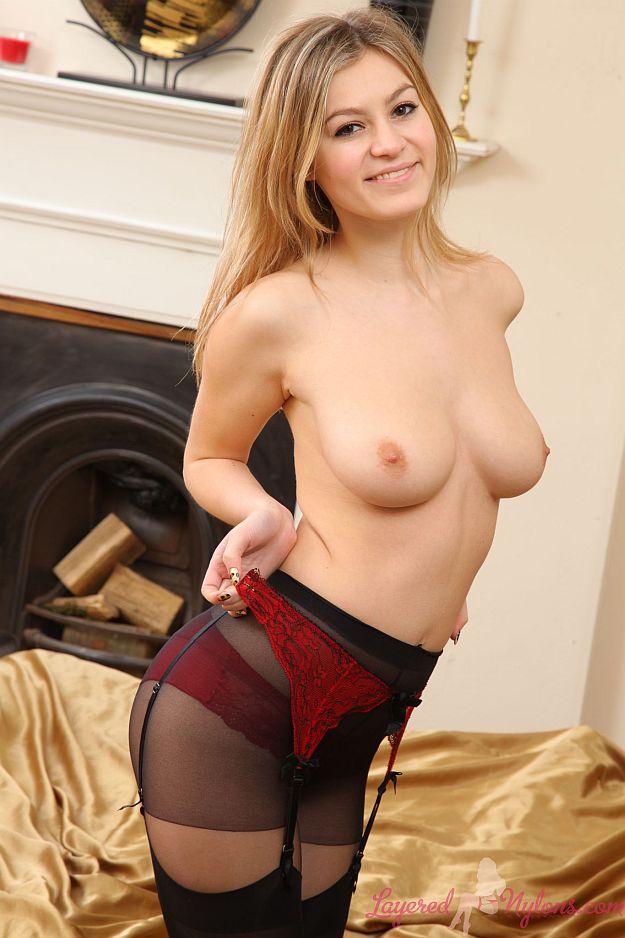 Blonde secretary Summer gave a warm smile and looked over the rim of the in her glasses perched on her pretty nose. Dressed and ready to go to the office, she still had time to give us a little striptease and pose topless in her black panties, stockings and nylon pantyhose.
Summer teased by lifting up her dress, revealing a red lace suspender-belt around her hips, attached to black stockings and layered over sheer nylon pantyhose. She turned, bending right over and stood with her legs apart as she swayed her ass clad in red full-back panties and black hose. She looked back over her shoulder and smiled as she wiggled her bum; the taut suspenders stretching over her buttocks, straining on the tops of her black nylon stockings.
Summer stripped off her dress, revealing a red lace-patterned bra that matched her panties, then reclined on the bed and slipped a hand between her pantyhose covered thigh and the top of her stockings. Removing her stiletto heels, she lay back and lifted her legs high, crossing her ankles and curling her toes inside the layers of nylon hosiery covering her feet.
Summer teased out of her bra, holding the cups in place over her chest before stripping the garment away and exposing her pendulous breasts. She stood in her stockinged feet and posed topless, pulling on her suspenders straps and letting them snap back into place against her nylon clad thighs.