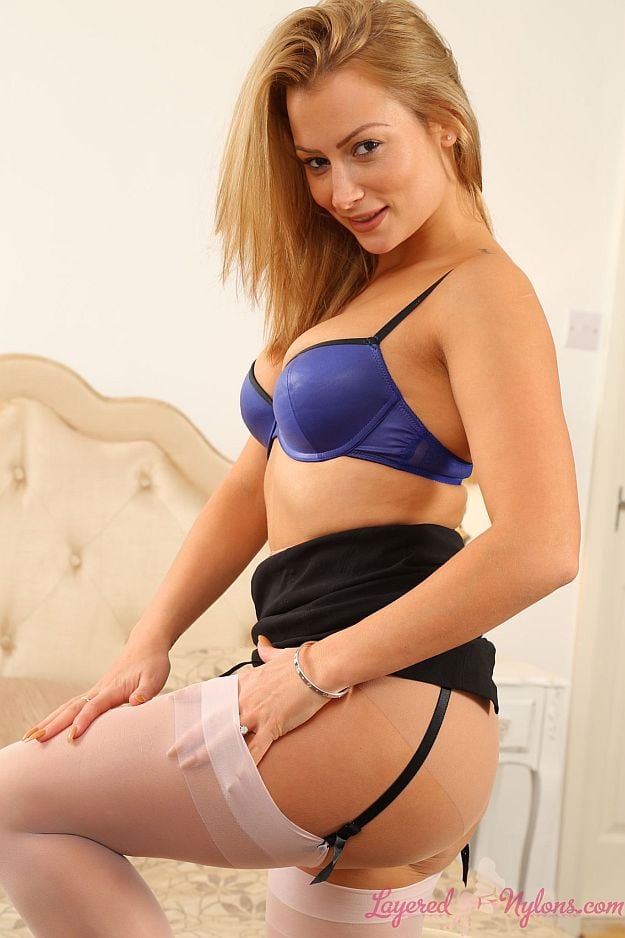 Kelli Smith dressed smartly for her day at the office in her pinstripe shirt, black pencil skirt, pale nylon hosiery and a nice pair of slingback sandal heels. However, there is more to her outwardly conservative appearance, for underneath her formal attire she is wearing some exciting layers of lingerie and nylon.
Kelli gave us a striptease and began by laying on the bed and pulling up her skirt to reveal black suspenders attached to white stockings, layered over smooth, tan-nylon pantyhose.
Sitting-up, she unbuttoned the front of her crisp cotton shirt, uncovering a blue, low-cut bra that exposed the soft flesh of her cleavage. She stripped off the shirt and opened her legs to show the blue matching panties behind the semi-sheer crotch of her pantyhose. Then she pushed her hand under the tops of her white stockings and her fingers caressed the layer of nylon hose around her thighs.
Kelli stood and unzipped the back of her skirt, her suspenders stretching around the curve of her ass as she bent down to strip it away. She followed by teasing out of her bra and held the cups over her chest before revealing her gorgeous all natural breasts.
Kelli posed topless while standing in her heels, turning to show of her fabulous body dressed in suspenders, panties and layers of sheer nylon hosiery.