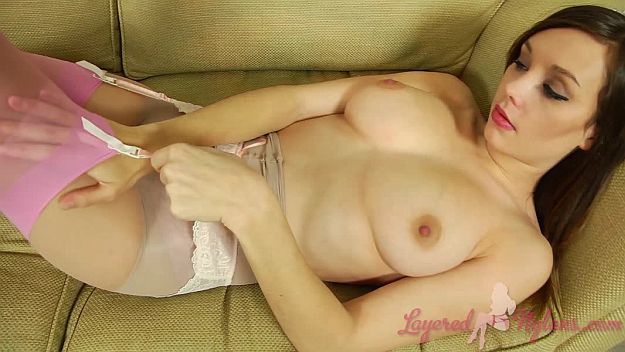 'Hi. I'm Jo and I can't wait to show you my lovely leg-wear, hope you enjoy the video,' Jo says, lifting the side of her short, lace dress and turning to show off her legs in pink hosiery and stiletto heels.
Jo runs her hands over her body and feels her breasts through the white lace of her dress, then lifts it up to show the straps of her suspenders attached to pink stockings, layered over tan, sheer nylon pantyhose.
Jo turns and lifts the back of her dress, bending over while her hands squeeze the firm cheeks of her ass encased in the clingy nylon layer of her pantyhose. She slips her thumbs under her taut suspenders and lets them snap back into place against her firm buttocks, the clasps straining on the tops of her sexy, pink stockings.
Reclining on the sofa, she stretches out her legs and slips her hand under her stocking tops and the layer of nylon hose around her thighs. She reaches down and slips off her heels, then lifting up her pretty feet she points her toes and draws her hands back over her legs in their layers of pink nylon hosiery.
Jo strips off her dress and runs her hands over the pink satin bra that uplifts and reveals the ample flesh of her cleavage. She strips the bra off and jiggles her pendulous all natural breasts, squeezing and massaging the mounds of voluptuous flesh in her hands.