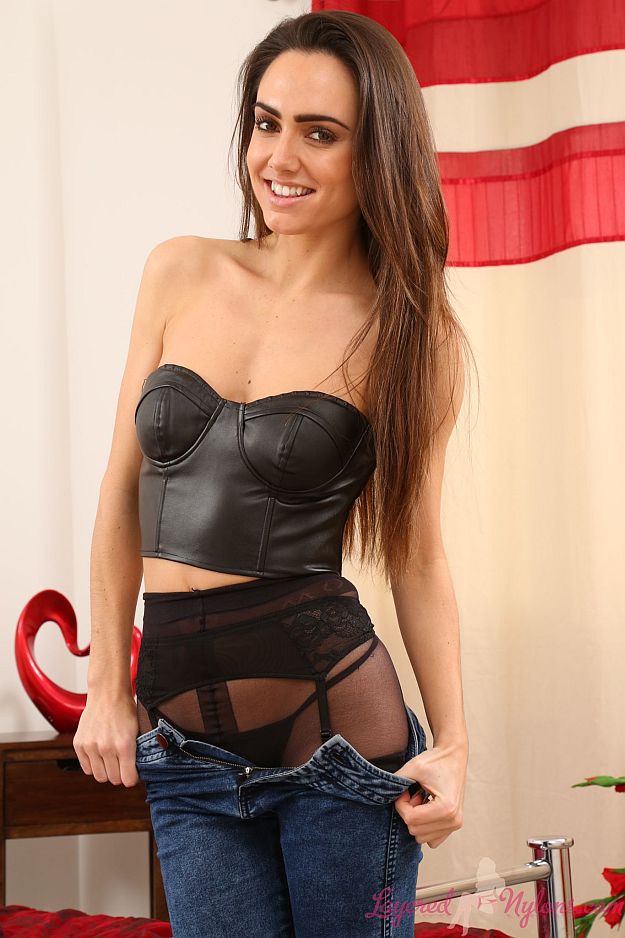 Jamie posed for us at the start of this photo-session, dressed in a black leather bustier, skin tight blue denim jeans and ankle high-heel boots. Standing with her back turned and legs apart, she ran her hand through long brunette hair and over the curve of her hips and ass in tight fitting stretch denim.
Removing her boots, Jamie unzipped her jeans and peeled the denim away from her hips, then turned to show the 'whale tail' of her pantie thong under a layer of sheer pantyhose. She ran her thumbs under the black suspender-straps and tugged them outward, then let them snap back into place against her nylon covered ass cheeks.
Jamie unzipped the back of her bustier and held it over her chest, then turned back to face us and stripped it away to uncover her petite all natural breasts.
Laying on the bed and posing topless in her lingerie, she lifted up her legs to give a close-up view of her feet clad in black nylon hosiery. Hooking her thumbs under waist of her pantyhose, she pulled the nylon over her tummy and the gusset stretched tight around the crotch of her black pantie thong.