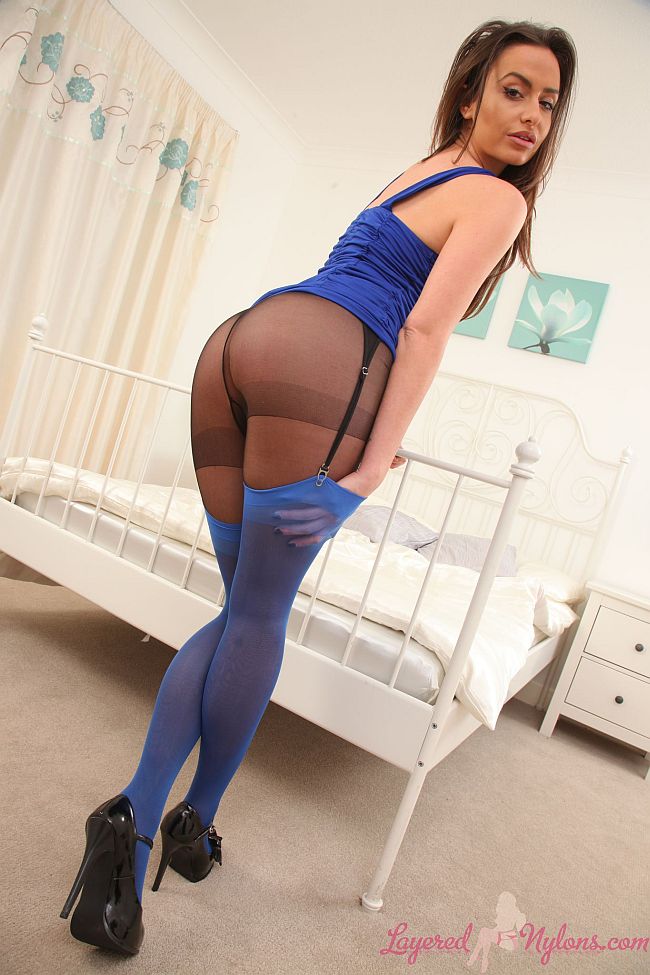 During the day Sarah is a hot secretary and in the evenings she likes to go out wearing her sexiest clothes and tease everyone as she flaunts her fabulous figure on the dance floor. She showed us her latest outfit, posing in a blue ruched dress that clung to her curves, and some blue stockings which were layered over black nylon pantyhose.
Reclining on the bed, she she pulled back the hem of her dress and stretched out her long legs to draw attention to her shiny black leather, stiletto heels. Laying back against the pillows she lifted her legs vertically and slipped her hand between the layers of nylon hosiery around her thigh, causing the black suspenders to strain on the tops of her blue nylon stockings.
Sarah pulled down the top of her dress and caressed her all natural breasts and their brown puffy nipples, then opened her legs to show the black pantie thong behind the sheer gusset of her pantyhose.
Sarah stripped off her dress and slipped her hands down the rear over her pantyhose and grabbed the cheeks of her ass under the stretchy, sheer nylon. She sat and removed her heels, then laying back on the bed she raised her legs high to give a view of her feet in their layers of black nylon hose.