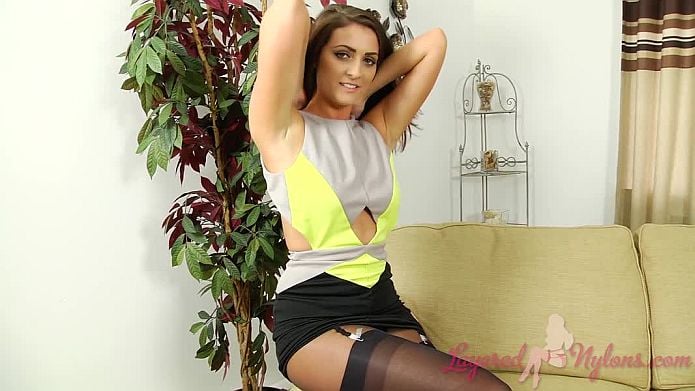 The first thing you'll notice about Demi as she stands and poses at the start of her video is her figure, which is shown off to good effect in the tight-fitting dress that clings to her curves.
As she turns to give a rear view, your eyes are immediately drawn to her shapely legs, which look so alluring in black nylon hosiery and heels.
Demi smiles as she lifts up the hem of her tight fitting skirt, revealing black suspenders and stockings under a layer of black, sheer nylon pantyhose. Then sitting on the arm of the sofa, she crosses one leg over the other and gently caresses the surface of her shiny, black nylon hosiery.
Demi pulls down the top of her dress to reveal she has well formed, all natural breasts, which look so peachy as they bounce and hang from her chest. Then stripping off the dress, she reclines of the sofa and shows off her fabulous ass in lacy black panties, bounded by her suspenders under the clingy layer of her black sheer nylon pantyhose.