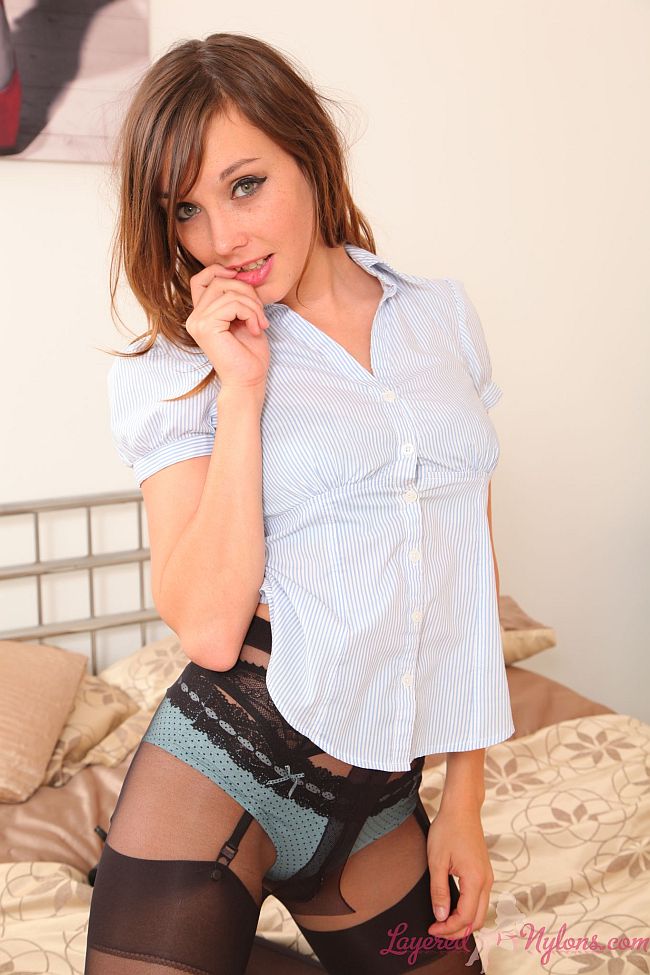 Secretary Jo E always dresses fairly conservatively for work, so after a long day at the office, there's nothing more she looks forward to than striping off and lounging around in her underwear.
Jo finds there's something quite exciting about wearing lingerie under her smart suit while she's at work. It being her little secret that know-one else knows about, makes her feel very sexy indeed. She recently started wearing layers of both stockings and pantyhose under her clothes, secretly enjoying the sensation of close fitting nylon hosiery embracing her hips and thighs as she sits at her desk.
The moment she arrives home, she takes off her glasses and lets her hair down, stripping of her jacket and unzipping her skirt to let it slide down her stockinged legs. Unbuttoning her shirt, she strips it off to fully reveal her pale blue bra with black dots and lace, that exactly matches the panties under the layer of her black, sheer nylon pantyhose.
Kneeling on the bed, she slips her hands down the rear of her pantyhose and enjoys the sensation as her hands caress the soft flesh her buttocks and slide under the tops of her black stockings.
Jo finally teases out of her bra and stretches the waist of her pantyhose up to her breasts, the gusset pulled tight around the crotch of her pretty panties.