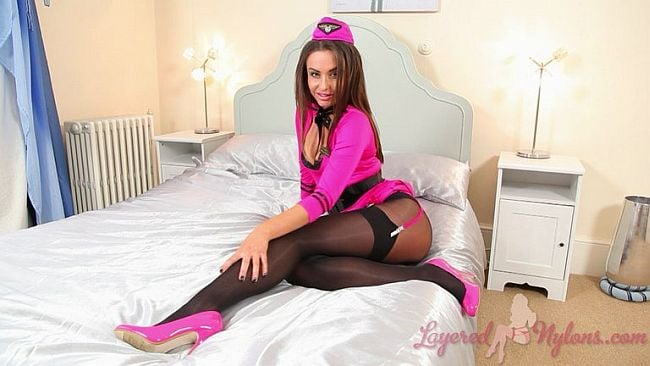 Sarah E is your sexy air hostess today and she's ready to tease and please in her tight uniform, black nylons and sexy pink stiletto heels.
Sarah teasingly lifted the hem of her uniform dress and reveled she was wearing black nylon stockings and contrasting pink suspenders layered over sheer nylon pantyhose. Then she pushed her hand between the layers of nylon covering her thighs and ran her thumb under the taut strap of her sexy, pink suspenders, causing them to strain on the tops of her nylon stockings.
Her luscious lips pouted as she sat on the bed and extending one of her legs, she moved her hand over the smooth surface of her shiny black nylons. She then knelt with her dress pulled up to give a view of her pert ass and show she was wearing black lacy panties under her layer of sheer nylon hose.
Sarah stripped off her uniform and revealed a black bra and saucy, pink suspender belt, then slipped of her pink heels and ran her hands over her petite feet, encased in their tight layers of nylon.
Sarah removed the bra and posed in several positions on the bed, caressing the contours of her semi-naked body and legs in their layers of suspenders, black stockings and sheer nylon pantyhose.