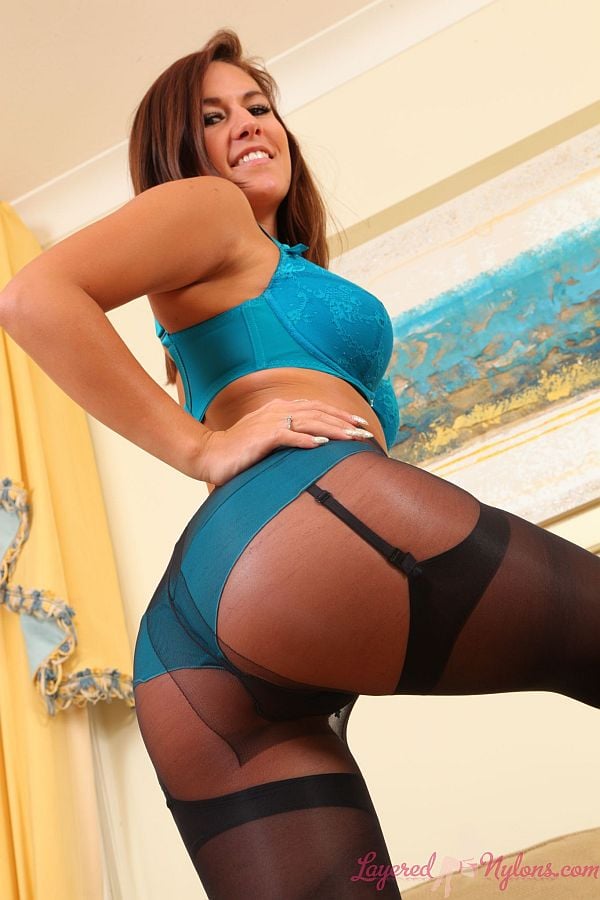 Busty brunette Victoria sat on the armrest of the sofa in her pretty, polka dot dress, a slight sheen reflecting off the shiny surface of her black nylon hose as she displayed her shapely legs.
Victoria flashed a smile as she and lifted up the hem of her dress to reveal blue lace panties, black stockings and suspenders, under a layer of sheer nylon pantyhose.
She unbuttoned the front of her dress to reveal she was wearing a blue lacy bra, then pulled it over her pantyhosed ass and leaned forward, showing some cleavage as the dress slid down her legs and pooled around her feet in sexy black heels.
Victoria stepped out of the dress and posed in her lingerie and nylon, running her hands through her hair as she showed off the tight fitting, black garter-belt around her hips, the suspenders stretching down her thighs pulling taut on the tops of her nylon stockings.
Laying down flat on the sofa, she spread her legs to show off her sexy ass encased in clingy sheer nylon, then reached behind and slipped off her heels to display her feet in their dark layers of pantyhose and stockings.
Victoria removed her bra to uncover her perfect, all natural breasts, soft-pink aureoles and nipples, then leaned forward to let her boobs hang pendulous from her chest as she teased in her layers of lingerie and nylon.