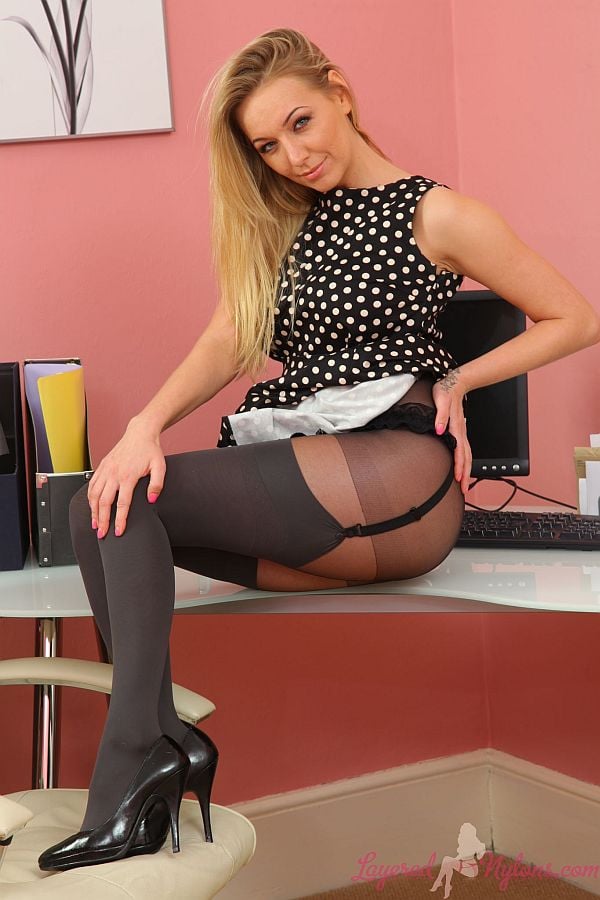 Today secretary Hayley-Marie came to the office dressed in her sexy polka dot, 'flared dress', and a double layer of nylons to keep her warm in the cold weather we've been experiencing lately.
'I've got a very sexy suspender belt on underneath this dress,' she said, smiling as she sat on the edge of the desk with her hands resting on top of her knees and her feet placed on the seat of the chair. "I supposed you'll be wanting to see, won't you guys?'
Hayley-Marie shifted around and teased up her dress to give a tantalizing look at her stocking tops, then opened her legs to reveal she was wearing a pink-red satin, pantie thong under her layer of sheer nylon pantyhose.
She stood and lifted the back of her dress, bending forward to fully reveal black suspenders stretching over her pantyhosed buttocks, straining on the tops of her charcoal grey, opaque stockings.
Hayley-Marie stripped off the dress and uncovered her under-wired, satin pink-red bra, then reached round her back to undo the eye hooks and removed it to reveal her all natural breasts.
Posing topless, she knelt on the floor and presented her fabulous ass encased in it layer of black sheer nylon, her sexy black suspenders pulling taut on the tops of her saucy opaque stockings.