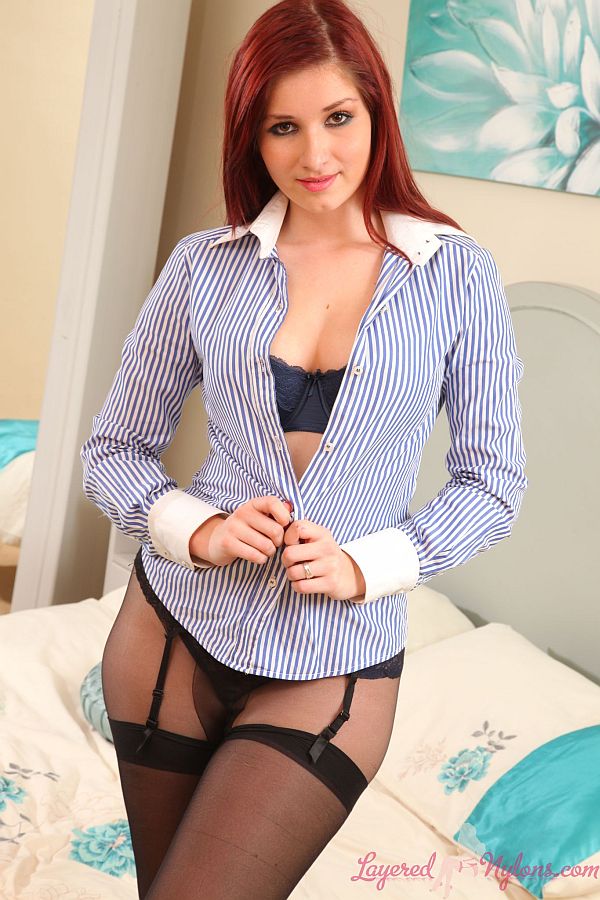 Harley knows that the guys in her office appreciate a girl with a curvy figure and enjoy seeing her dressed in tight clothes that emphasize the shape of her feminine figure.
Secretly fantasizing about doing a striptease in front of her male colleagues, she rehearsed her performance in her bedroom and began by slowly pulling up the hem of her skirt to give a glimpse of her black stockings and suspenders.
Harley turned and looked back over her shoulders, then unzipped her skirt and eased it over the cheeks of her ass encased in a layer of black, sheer nylon pantyhose. The skirt fell swiftly down her stockinged legs to the floor and she stepped out of it and sat on the edge of the bed.
Harley unbuttoned her striped shirt and pulled it open, then slipped it over her shoulders and arms, to reveal her voluptuous bust, supported by a navy blue coloured bra that pushed her ample cleavage together.
Sitting with her legs crossed she unbuckled her heels, letting them dangle from her stockinged toes, before laying back on the bed and lifting her legs to present a close up view of her feet in their opaque layers of nylon.
Harley slipped off her bra to reveal her all natural breasts with their soft pink nipples, then kneeling she gave a view of her fabulous ass, legs and feet in their layers of black nylon hosiery.