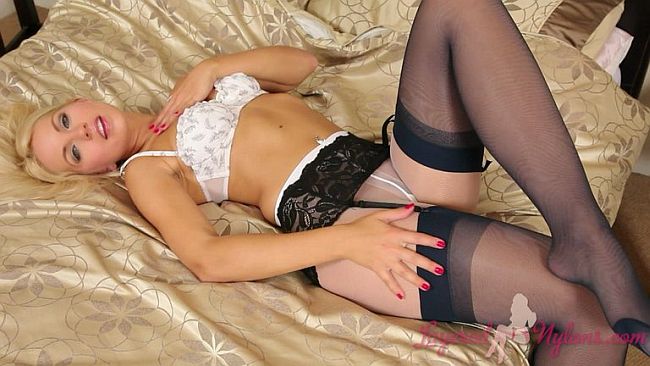 Jenni looked totally sexy in her short black and white polka dot dress, her legs so alluring in their black hose, topped off by a pair of black and white heels.
Jenni knows how to really tease with all the right moves, lifting the hem of her dress slightly, then pulling it from side to side so it made a swishing sound as the material rubbed against the back of her nyloned thighs.
Turning around to give give a rear view, she swayed her hips and lifted the dress fully to reveal her black suspenders and stockings were layered over white, nylon pantyhose.
Jenni wigged as she turned on the spot, teasing her dress up to reveal that she was sans panties under her sheer pantyhose. Her black, lacy suspender belt and suspenders stretching down her thighs to the tops of her stockings, framing the area of her crotch encased in white, sheer nylon.
Reclining on the bed she unbuckled her shoes and slipped them off, then smiled with sensual satisfaction as she ran her hands all over her shapely legs and down to her pretty feet covered in their nylon layers.
Jenni stripped off her dress and removed her white bra to uncover her petite, all natural breasts. Then kneeling to give a view of her ass sheathed in pantyhose, she pushed her hands down between the layer of her stockings and tights, making them strain on her suspenders as she felt up her thighs.