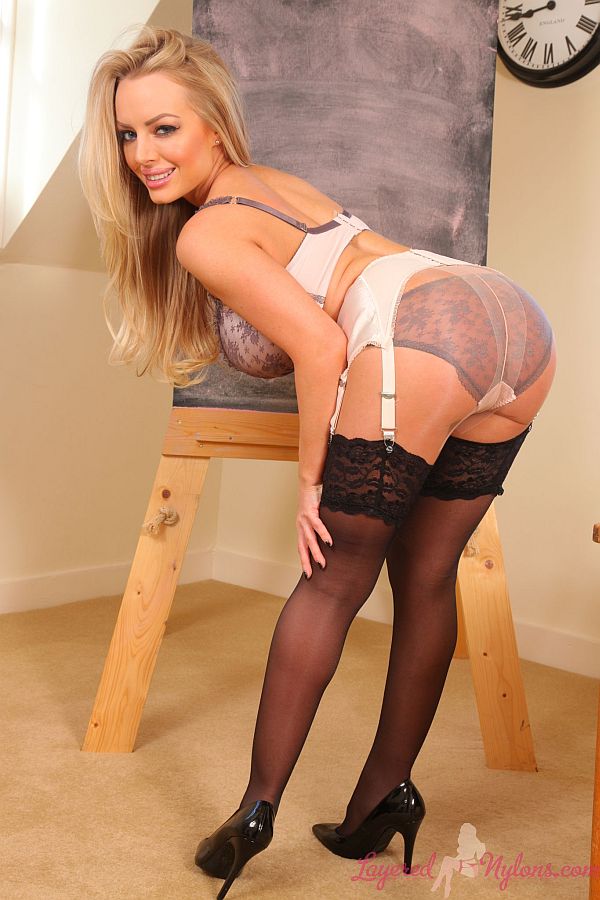 Today's class is being taken by gorgeous Miss Hannah Claydon and the lesson is how to striptease in layers of lingerie and nylon, so pay attention!
Miss Claydon looked absolutely perfect in her smart black outfit as she paraded in front of the class in her black nylons and shiny black heels.
She stopped and sat on the edge of her desk, then slowly lifted the hem of her skirt up her thighs to reveal her white suspenders and metal clasps, attached to the black lace tops of her sexy stockings. Then she swung her legs onto the desk top, giving a glimpse of panties under her skirt as she slid several fingers down the lace tops of her stockings and brushed them over her thigh.
Miss Claydon got off the desk and removed her jacket, then lifted the back of her skirt to show she was wearing her white suspender belt and stockings, layered over tan, sheer nylon pantyhose. A pair of sexy lace panties worn under her sheer nylon hose, clung to the shape of her peachy ass, as she bent over and ran her hands down her sexy stockinged legs.
Miss Claydon unbuttoned her shirt and opened it to reveal she was wearing an uplift bra that pushed the mounds of her voluptuous breasts together and presented a generous amount of cleavage. She then unzipped the back of her skirt and let it slide over her ass and down her shapely legs in their alluring layers of nylon and shiny high-heels.
Turning, she reached behind her back and unhooked her bra, the material stretching a she pulled the straps down her arms and held the cups over her breasts. Then she peeled the bra away and stood facing the class, brushing her hands through her long blonde hair as she posed topless in her lingerie bra, white satin garter-belt and nylon stockings and tights.