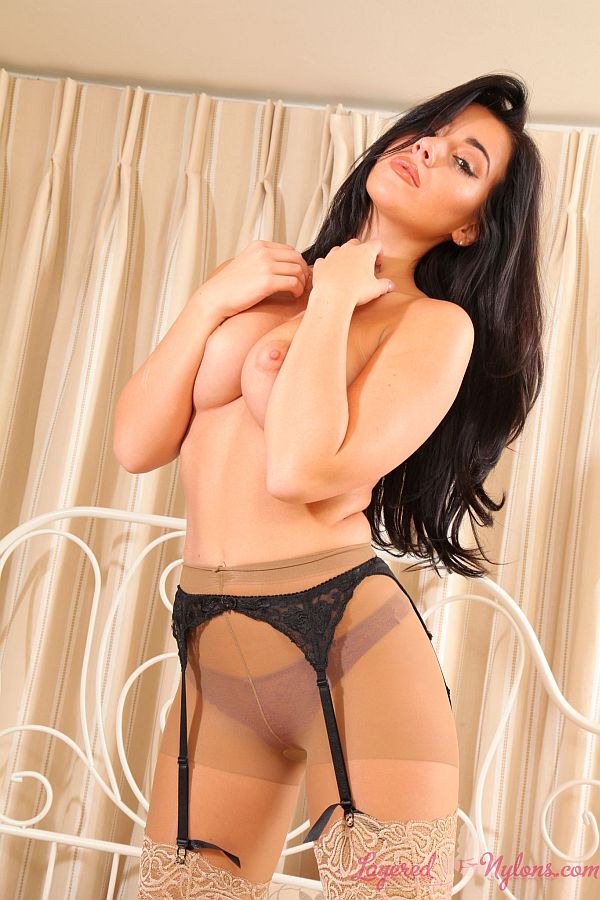 Georgina looked incredibly alluring in her sexy lacy basque, which uplifted and pushed her breasts together to form an enticing display of voluptuous cleavage.
Standing in her open toes heels, she posed with hands around the waist of her short skirt, which barely covered her thighs and the lace tops of her expensive tan nylon stockings.
She stripped off her skirt and basque to reveal she was wearing a black suspender belt over tan, sheer nylon pantyhose and a pair of lacy panties.
Georgina sat and slipped of her heels then reclined on the bed, showing off her gorgeous ass, legs and dainty feet sheathed in their layers of tan hosiery.
She knelt on all fours and tilted her ass up, then folded her legs back so she was balanced on her knees and pointed her feet at the same time in a classic pin-up pose. Her black suspenders stretched over her buttocks sheathed in glossy tan nylon, pulled taut on the lacy tops of her erotic nylon stockings.