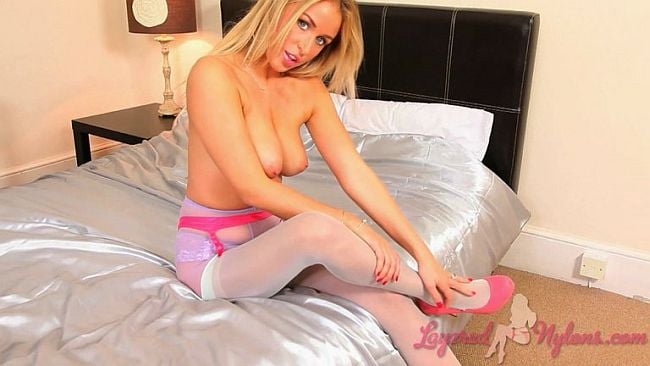 'Hi it's Rosie, welcome to my Layered-Nylon show, hope you enjoy,' said our luscious blonde as she stood in her heels and posed in her tight-fitting party dress.
Rosie ran her hand over the cheeks of her ass, then lifted the hem of her dress to reveal she was wearing pink suspenders and powder blue stockings, layered over pastel purple coloured, sheer nylon pantyhose.
Sitting on the edge of the bed, she caressed her legs in their shiny layers of nylon and opened them to show the purple oval of her pantyhose gusset, stretched over the crotch of her lacy purple panties.
Rosie pulled the dress over her head to uncover her all natural breasts, then knelt to present her ass encased in its layer of sheer nylon; the pinkness of her suspenders contrasting against the purple of her pantyhose, pulling taut on the tops of her sexy stockings.
Rosie posed topless in various positions, running her hands over her breasts and pushing them together, then caressing her semi-nude body, legs and ass in their layers of coloured, sheer nylon stockings and pantyhose.