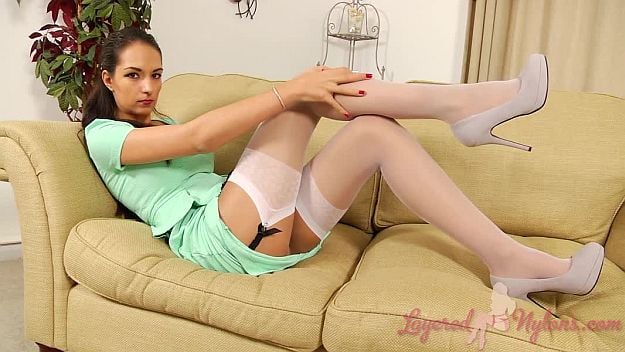 Rebecca looks alluring in her tight fitting outfit while she snakes her body seductively, sliding her hands over her curves and up to her large breasts and drawing attention to her exposed cleavage. She turns and bends slightly, the outlines of her suspenders showing through the material her skirt as it pulls tight around the curve of her shapely ass.
Reclining on the sofa, she pulls back the hem of her skirt and slides her fingers under the white patterned tops of her stockings which are layered over tan nylon pantyhose. She extends her legs and gently caresses her nylons, running her thumb under the taut black suspender along her thigh so it pulls on her stocking top.
Rebecca stands to strip off her dress, revealing a black lace and pink satin bra and matching suspender-belt attached to her white stockings. Her hands massage her breasts through the cups of her bra, then she strips it off to expose her boobs and their perky nipples.
Discarding the bra, Rebecca pushes the mounds of her breasts together, squeezing and massaging them in her hands as she poses in her lingerie and layers of nylon hosiery.