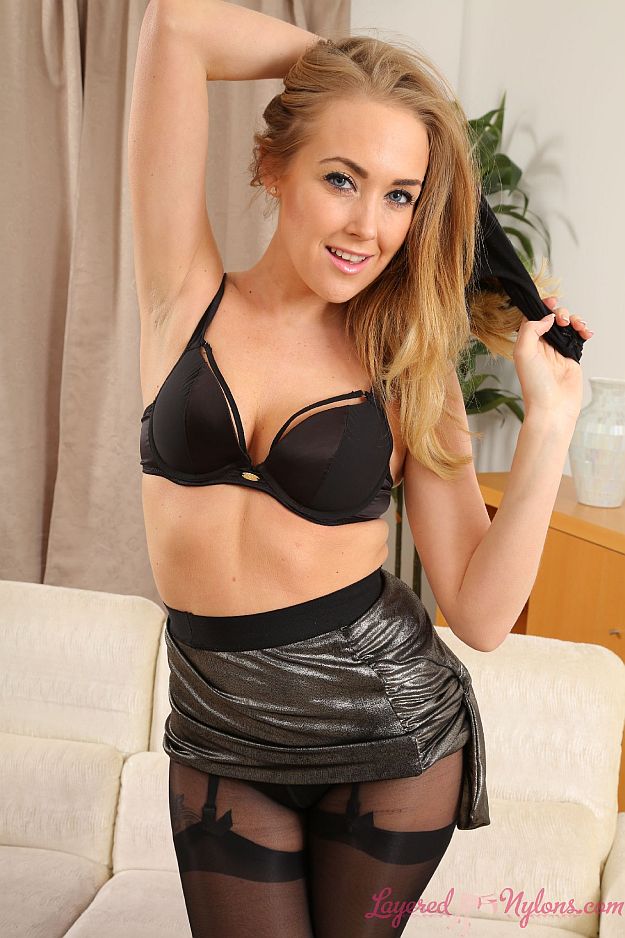 Lucy Anne is fabulous looking in her party outfit – sleeveless black top, metallic short skirt and her shapely legs in black nylon hosiery and platform stiletto heels.
Lucy gives us a cheeky smile as she poses in lots of positions on the sofa and pulls up her skirt to reveal black suspenders and stockings, layered over sheer nylon pantyhose. She opens her legs and pushes her hand down the front of her sheer nylon hose and slides it around the crotch of her black panties.
Stripping off her top reveals a black designer bra that clings to her boobs, and pulling the skirt down her legs she uncovers the lattice of her suspender-belt and matching pantie thong hugging her hips under her sheer nylon tights.
Lucy pulls down the cups of her bra and teasingly holds her hands over her boobs, before stripping it away and posing topless on the sofa. She raises her legs and slips off her stiletto heels, then standing in her stockinged feet she stretches the waist of her pantyhose up to her naked tits so the gusset is pulled tight around the crotch of her panties.