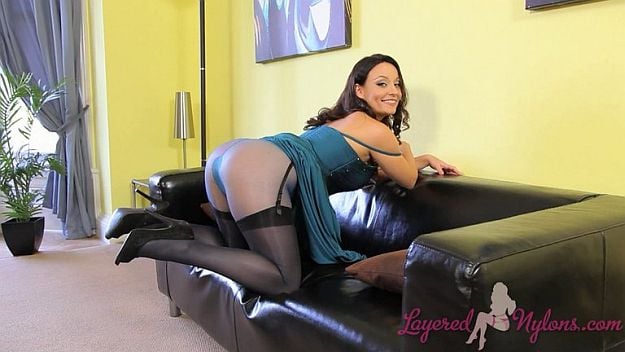 'Tonight I'm off to a charity ball and as you can see I'm dressed in a shimmery green gown,' Carla says, posing in her long evening dress that entirely covers her legs. 'There's someone I've got my eye on, so I thought I'd practice how I'm going to seduce him on you.
'I thought he might like the fact that you can see my garter-belt through my dress, so he'll know that I'm wearing stockings,' Carla says, her hands smoothing the dress against her thighs to show the outline of her suspenders under the slinky material.
'Perhaps I could sit down to give him a glimpse of my cleavage,' Carla says, sitting with one leg over the other  and drawing back the heavy folds of her dress over her legs, 'then show him my glossy pantyhose and the tops of my stockings.'
Carla pulls up the dress higher, revealing she is sans panties under the layer of her sheer nylon pantyhose and sits caressing her legs in their layers of shiny, nylon hosiery. She turns to kneel on the sofa with the dress pulled up and runs her hand over her shapely ass sheathed in blue nylon, the black suspenders stretched around her thigh straining on her stocking tops.
Carla strips off her dress to reveal her naked breasts and the black lace suspender-belt and suspenders that frame her nakedness under the layer of her sheer nylon hose.
'I love the feel of glossy stockings against my nylon pantyhose and the naughtiness of wearing no panties underneath,' she says, posing topless in her sexy suspenders and layers of nylon hosiery.