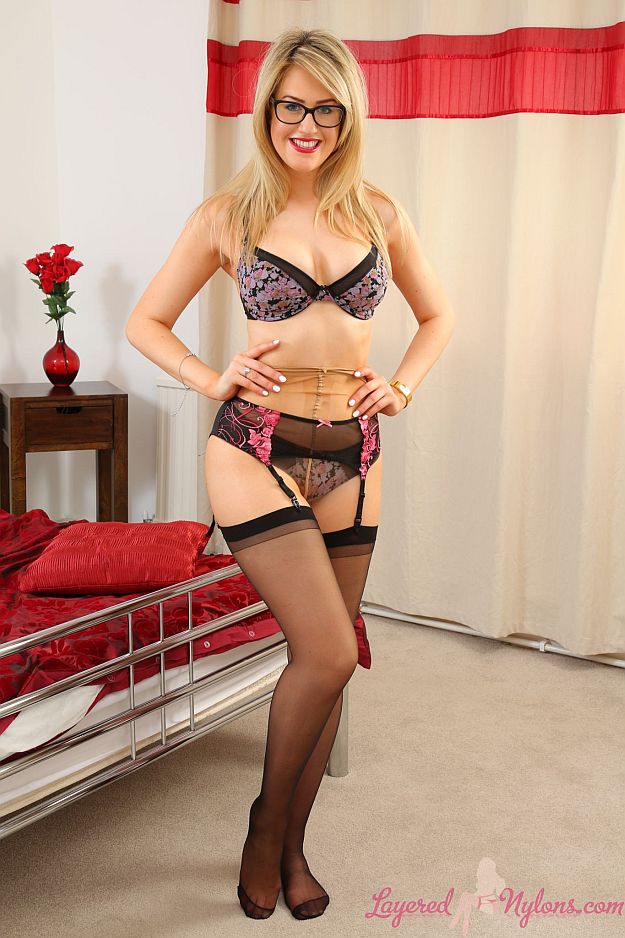 Blonde secretary Lola looks so sexy in her glasses, posing in a black flared skirt that swirls around her shapely legs in their black nylon hosiery. She bends slightly so we get a lovely view up her skirt at her suspenders pulling on the taut tops of her black nylon stockings.
Lola crawls on her knees over the bed and lifts her skirt, sitting back so the cheeks of her ass expand inside her floral panties under the layer of her tan nylon pantyhose. Her long suspenders stretch around her buttocks and over her thighs, straining with tension as they pull on the tops of her black nylon stockings.
Lola strips off her skirt, then sitting on the edge on the bed she slips off her strappy heels and lifts up her legs to show off her pretty feet and toes in their layers of nylon. Removing her top reveals a matching floral bra which supports and uplifts the flesh of her ample cleavage while she poses on the bed.
Getting up to stand in her stockinged feet, Lola unhooks that catch of her bra and strips it away, then turns and poses in her lingerie with her hands framing her beautifully rounded breasts.