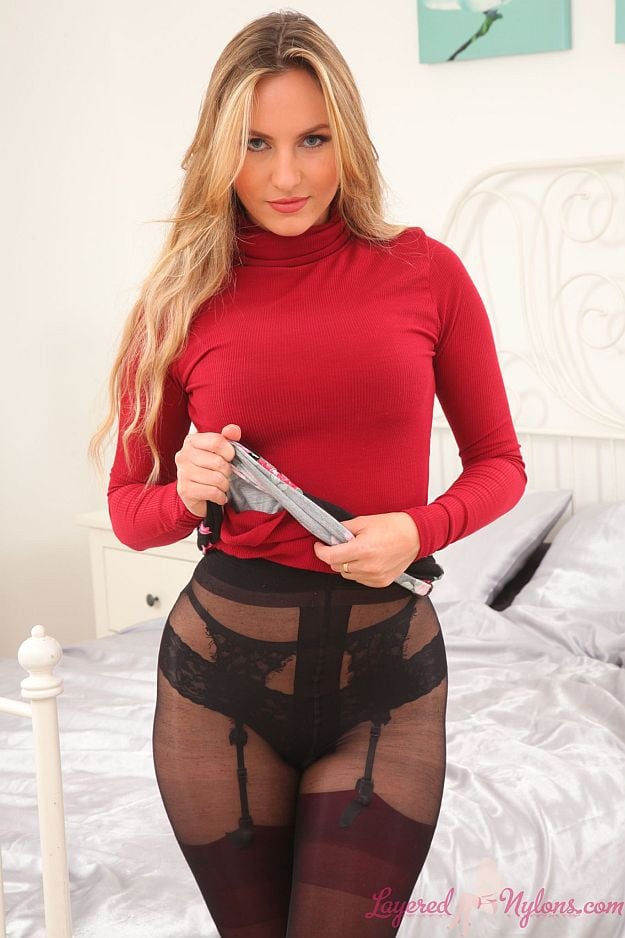 Natasha Anastasia is a stunning blonde babe and looks so alluring as she poses in her red polo neck sweater, short skirt, black nylon hosiery and heels at the start of this photo-set.
Natasha stands sideways on, her long blonde hair falling down her back and her breasts swelling under the stretchy material of her sweater, her ass so sexy in that tight-fitting skirt that clings to the curve of her buttocks.
Natasha pulls the skirt up around her waist and bends over to reach her ankles and runs her hand up her legs to where her suspenders pull on the tops of her red nylon stockings. Her ass looks fabulous encased in a layer of black sheer nylon pantyhose, under which the back of her black lace pantie thong slips between the cheeks of her shapely ass.
Natasha strips off her skirt and sweater to reveal she is wearing a black bra and skimpy, lace suspender-belt, then hooks her thumbs under the waist of her pantyhose and pulls them up so the gusset is stretched tight around the crotch of her panties.
Reclining on the bed, she slips off her heels and raises her legs high, then rubs her shapely feet together and flexes her toes inside their layers of nylon hose.
Natasha strips off the bra and gets up to stand in her stockinged feet to pose topless in her layers of lacy suspenders, panties and black nylon hosiery.