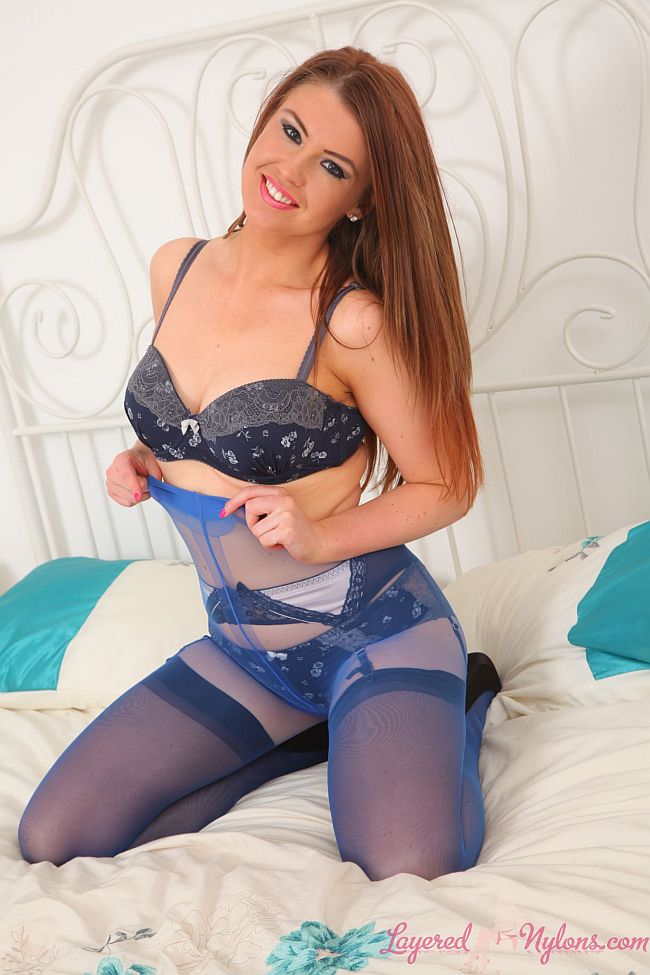 Nelly looked so enticing, her long lustrous red hair falling loosely over her shoulders, contrasted  against the black roll neck top that clung to the outline of her curvaceous breasts. Standing, she posed for us in a short blue skirt and slowly pulled it up, revealing black suspenders and stockings, under a layer of blue, sheer nylon pantyhose that covered her shapely legs.
Stripping off her top and skirt revealed a pretty, dark blue bra with a floral motif and lace trim around the top of the cups, a lacy suspender-belt around her hips, and a matching pair of panties under the layer of her sheer nylon pantyhose.
Nelly hooked her thumbs under the waist of her pantyhose and pulled it upward, the nylon stretching against her inner thighs and tightly around the crotch of her sexy panties. Then releasing the catch of her bra, she teasingly held the loose cups in place, before stripping it away to display her natural breasts and pastel pink nipples.