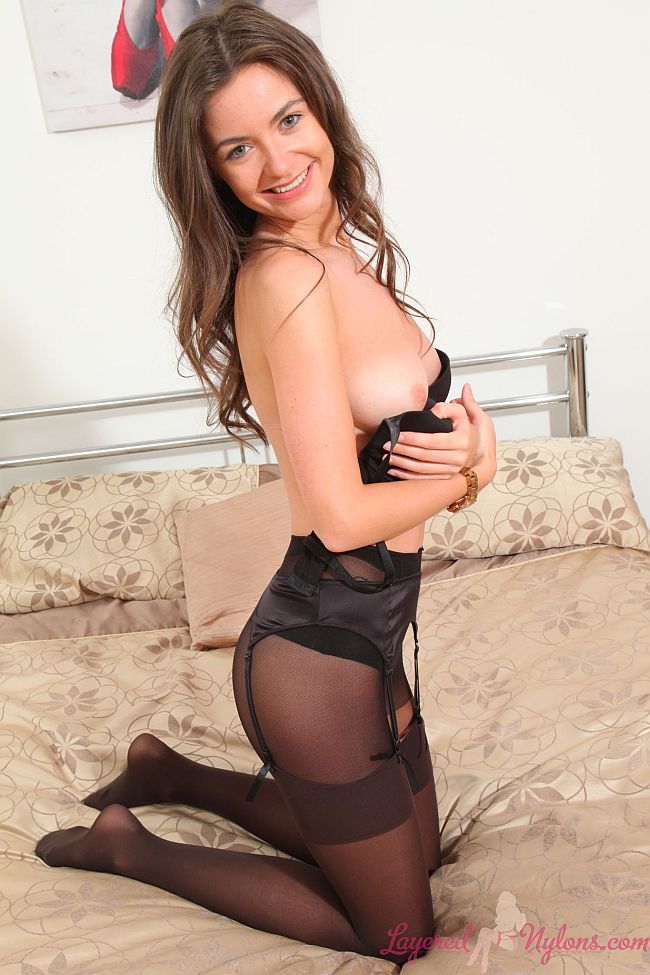 Tianna looked quite chic in her fashionable black and white stripped dress as she smiled and posed by the bed. She pulled up the dress to show off her fabulous ass sheathed in black nylon pantyhose, layered over by a black satin suspender belt and stockings.
Tianna's hand caressed her ass encased in the sheer black nylon that stretched over shapely buttocks, all nicely bounded by the black suspenders which pulled taut on the tops of her sexy nylon stockings.
Tianna pulled down her dress and stripped it off to reveal a black bra, then lay on the bed and opened her legs to show the matching pantie thong under the layer of her sheer nylon tights. Lifting her legs she slipped off her platform stiletto-heels, then crossed her ankles to give a close-up view of her feet in their layer of dark nylon hosiery.
Tianna knelt and slipped the straps of the bra over her shoulder and teasingly held the loosened cups around her boobs, then fully revealed her all natural breasts as she posed topless in her layers of lingerie an nylon hosiery.