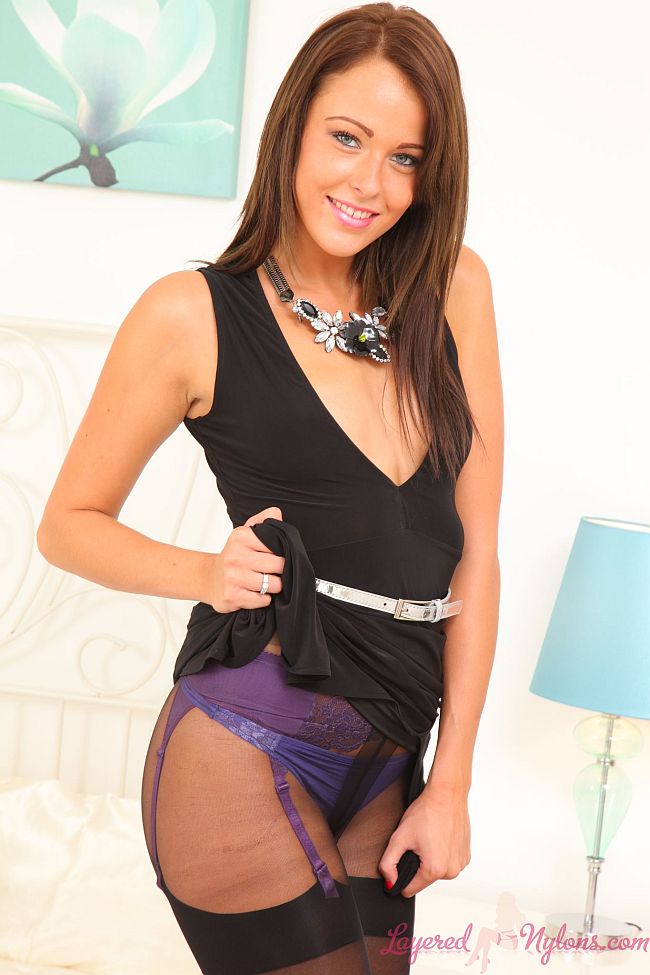 There's something so alluring about a women in a long evening dress that covers her body, both concealing her form while enticing the imagination as to what lays underneath. Such is the way we felt as we observed Lacey, looking very elegant in her long flowing evening dress, her leg in black nylon hosiery showing thorough the sexy side split as she posed in her patent leather heels.
Looking at us with a naughty sparkle in her eyes, she slowly gathered the folds of her dress and lifted them to reveal purple lingerie under a layer of black, sheer nylon pantyhose. Her hands reached up to slip the shoulders of the dress down her arms and allowed the front to fall away, uncovering her petite all natural breasts and their soft pink nipples.
The slinky dress slithered over her curves and revealed her fabulous ass, sheathed in her nylon hose, bounded by her purple suspenders attached to the tops of her black nylon stockings. She climbed onto the bed and slipped off her heels, then laying on her front she folded back her legs and crossed her stockinged feet together.
Rolling onto her back, she lay with her legs open to give a view of the black oval of her pantyhose gusset stretched over the crotch of her purple panties. Lifting her beautiful legs, she crossed them at the ankles to show off her pretty feet in their layers of black nylon hosiery.