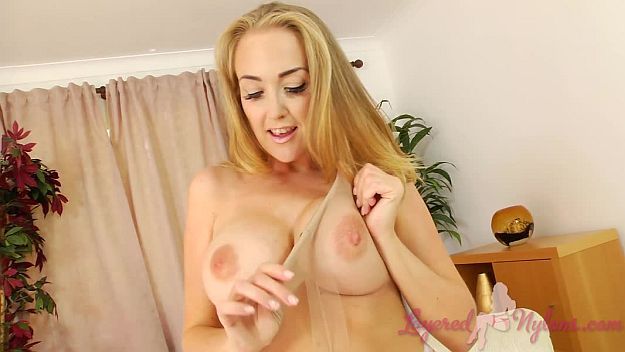 'Hey guys, Lucy Anne here! I've got a cute pilots outfit on and some sexy layered nylons which feel amazing, so I hope you enjoy this tease,' she says, posing in her white hat, uniform jacket and hot pants, giving a glimpse of her suspenders and stockings tops.
Lucy turns, bends slightly and sways beautifully, her hands running over the cheeks of her ass in those tight fitting, white shorts. The white suspenders tug on the tops of her stockings under the layer of her tan nylon pantyhose, as she slides her hands along the inside of her thighs and back over her bum.
Lucy unbuttons the front of her sexy pants and they slide swiftly down her stockinged legs to the floor. Sitting down, she strips away the pants and opens her legs to show the beige-tan gusset of her hose, stretched around the crotch of her white pantie thong.
Lucy stands and opens the front of her jacket and runs her hands over the large cups of her white, under-wired bra, which covers her fabulous boobs. Stripping the jacket off, she pushes her hands down the inside of her pantyhose and stretches the delicate nylon panel with her splayed fingers.
Lucy pulls and stretches the thin sheer nylon of her pantyhose up her front and over the cups of her bra. She readjusts the hose around her waist, then turns and pushes her hands down the rear of her tights and gives the cheeks of her ass a quick feel.
Lucy kneels on the sofa, releases the catch of her bra and strips away the cups, allowing her large breasts to hang freely. She caresses the ample flesh of her beautiful boobs, scooping the soft mounds in her palms and pushing them together as she poses in her lingerie and layers of nylons hosiery.