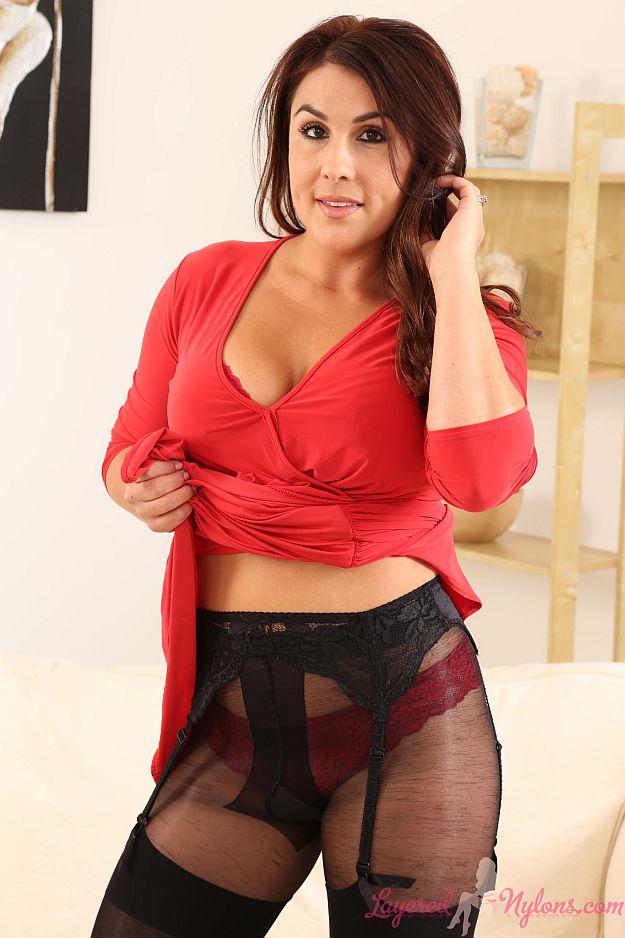 Busty brunette Emma Jones posed to show off her classic figure, exposing her shapely thigh in black hosiery thorough the side split of her sexy, red dress. Parting the folds of the dress at the front, she revealed her black suspenders and stockings, layered over the nylon pantyhose covering her legs.
Emma lifted the dress higher, uncovering her black suspender-belt and the red lace pantie thong under her sheer nylon tights. Her matching red lace bra uplifted her boobs and pushed together the ample flesh of her delicious cleavage.
Emma stripped off the dress and knelt on the white sofa, giving a view of her fabulous shapely ass, bound by her black suspender straps and encased in black nylon. She lay on her back and stroked her her legs, reaching down to her ankles to unbuckle the straps of her stiletto heels and take them off.
Sitting up, Emma released the catch of her bra, stripping it away to allow her heavy breasts to hang freely. Then she got up stood in her stockinged feet, posing topless and turning to show off her shapely figure clad in her layers of lingerie and nylon.