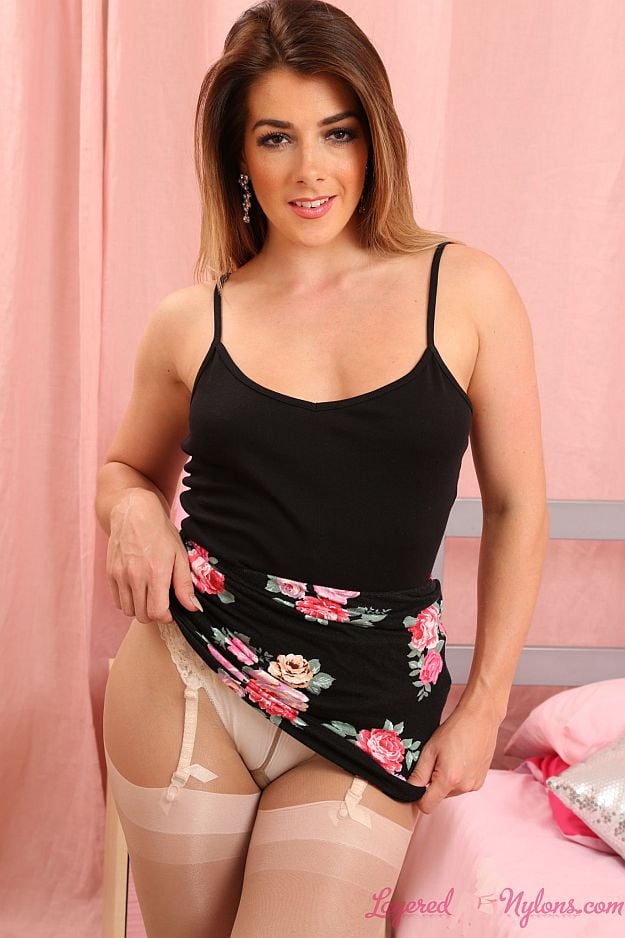 Tillie showed off her fabulous figure, posing in a skimpy vest top, short black skirt, her legs in shiny beige hosiery and feet in pink leather heels in this photo-set.
Smiling sexily, she lifted the front of her skirt and revealed white panties, suspenders and beige stockings under the layers of her sheer nylon pantyhose. She turned and pulled down the skirt, revealing the 'whale tail' of her pantie thong and shapely buttocks, sheathed in their layer of silky nylon hose.
Tillie sat on the bed with her legs open, showing the beige tan gusset of her pantyhose, stretched over the white crotch of her panties. She looked up, her long brunette hair falling over her shoulders as she slipped the thin straps of her vest top down her arms to give a tantalizing view of her cleavage.
Stripping off the top, Tillie uncovered her gorgeous all natural breasts and posed in her white panties, lace suspender-belt and stockings. She turned and slipped her hands down the rear of her pantyhose, her wrists stretching the tight nylon waistband as she pushed her arms deeper and cupped her buttocks in her palms.
Reclining on the bed, Tillie lifted her legs and gently rubbed them together in their silky, nylon hosiery, crossing her ankles and displaying her feet in their pink, patent leather heels.